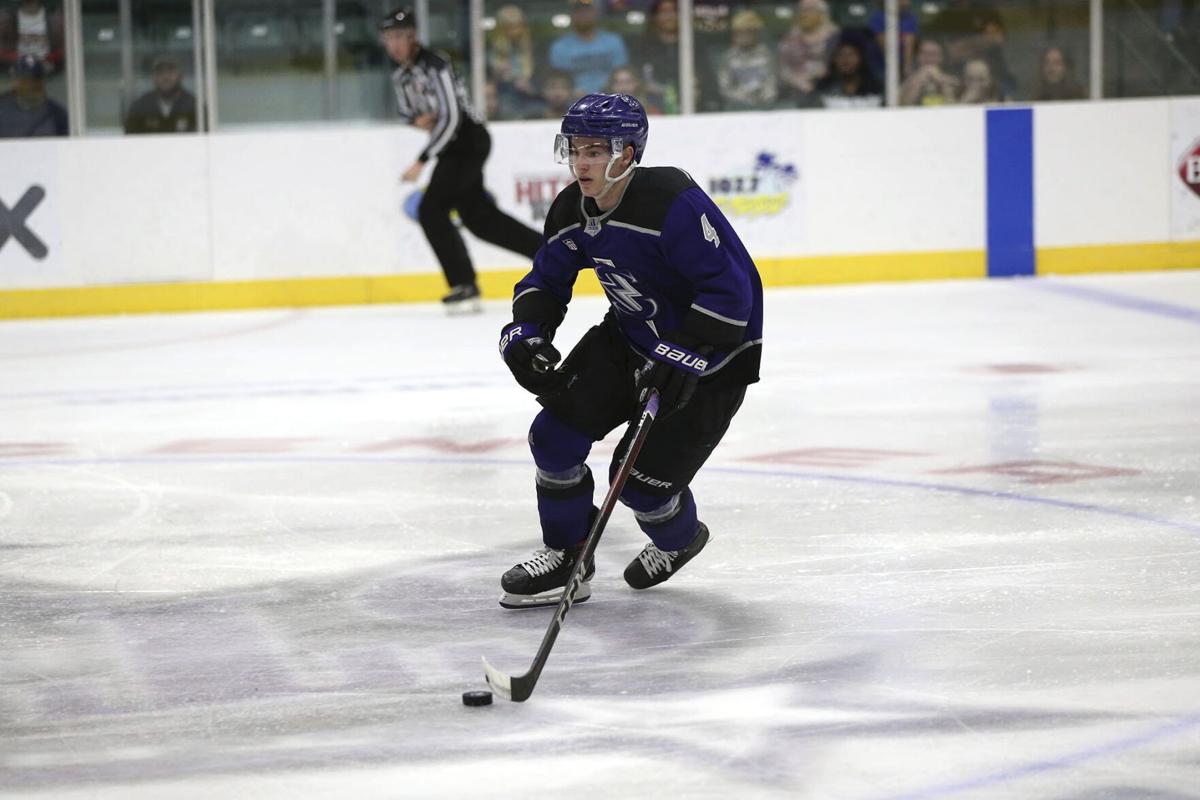 Gavin Brindley has already been a part of one championship winning hockey team this season.
He's hoping there is more to come.
The Tri-City Storm center competed for the United States national team in the recent Five Nations Championship Nov. 10-14 in Montey, Switzerland.
The U.S. came away with the gold medals in the tournament, that also included teams from Switzerland, Sweden, Finland and the Czech Republic.
Storm coach Anthony Noreen said competing in that type of international competition is something that the 17-year-old from Estero, Florida, earned.
"I think it says a ton about him," Noreen said. "It says a lot about his development being to go over there and play over some guys that were taken over him a short time ago – a year-and-a-half ago. His buy-in, his development, his drive is special. It's honestly as special as I've seen in a young guy that age since I've been doing this."
Brindley netted a goal and notched two assists in the USA's 9-1 victory over the Czech Republic in the team's third game of the event. Brindley completed the tournament with a plus/minus rating of plus-5.
Brindley at first simplifies being able to participate in the Five Nations.
"It was a good experience," he said. "We did really well over there, but I'm pretty excited to be back."
But he recognizes that it was a pretty special opportunity.
"The experience was awesome," Brindley said. "Being able to go overseas to represent your country on a stage like that does not happen very often and when the opportunity is given, you cannot take it for granted. Playing against the best kids in the world is something really special and when you are in the moment you do not realize how crazy that is in the big scheme of things.
"The games in this tournament were really good. Our team played well. I have known most of those guys for a long time, so it was good to see them and play with them again."
Brindley wasn't a rookie in international competition. He had previously participated in the 2020 Winter Youth Olympic Games in Lausanne, Switzerland.
But joining the team, made up mainly of players already playing together on the United States National Team Development Program 18-and-under squad, turned out to be a smooth transition.
"I played two years prior with USA, and it was similar to that, playing against European teams on a bigger ice sheet," Brindley said. "Our team was pretty unbelievable. They made it pretty easy for me to adapt, and it was a blast."
Playing for your country is a special moment for any athlete.
"Wearing the USA jersey is the greatest honor that comes with being a hockey player from the United States," Brindley said. "Being able to represent your country on a world-class stage and end up winning the event, it is hard to put into words how special it is. Playing for your country with a great group of guys don't happen often, so when it does, all you can do is live in the moment and do whatever you can to win and be successful."
Now Brindley returns with his focus on helping the Storm continue its success. He did that last weekend, scoring two goals and an assist in a sweep of Des Moines.
"We're gelling together as a group," he said. "From day one we've been best buds, so it's a great group in there. We don't back down."
Brindley has been centering the Storm's second line and has seven goals and five assists in 11 games. He had nine goals and 13 assists last year in his rookie season in the USHL.
"It's a little bit easier having the experience, especially with how good the league was last year," Brindley said. "The guys last year helped me out and helped the younger guys out, and I'm trying to do the same for the younger guys this year. Hopefully we can return the favor and win the Clark Cup."
The University of Michigan commit credits the Storm's coaching staff with his jump in production in his second season.
"Our coaching staff is unbelievable," Brindley said. "Noreen does an amazing job and (assistant coaches David Nies, Shawn Sramek and Sam Povorozniouk) are all unbelievable. Honestly, I can't thank them enough and I think the guys appreciate how much time they put into our team and the work that goes into our guys on the ice and off. It's awesome to see."
The coaching staff certainly appreciates Brindley, too.
"He's the type of guy who makes you love doing what we do," Noreen said. "He's a joy to be around, an elite player, a great person from a great family. It was great to see him get rewarded with a gold medal because he deserves it."