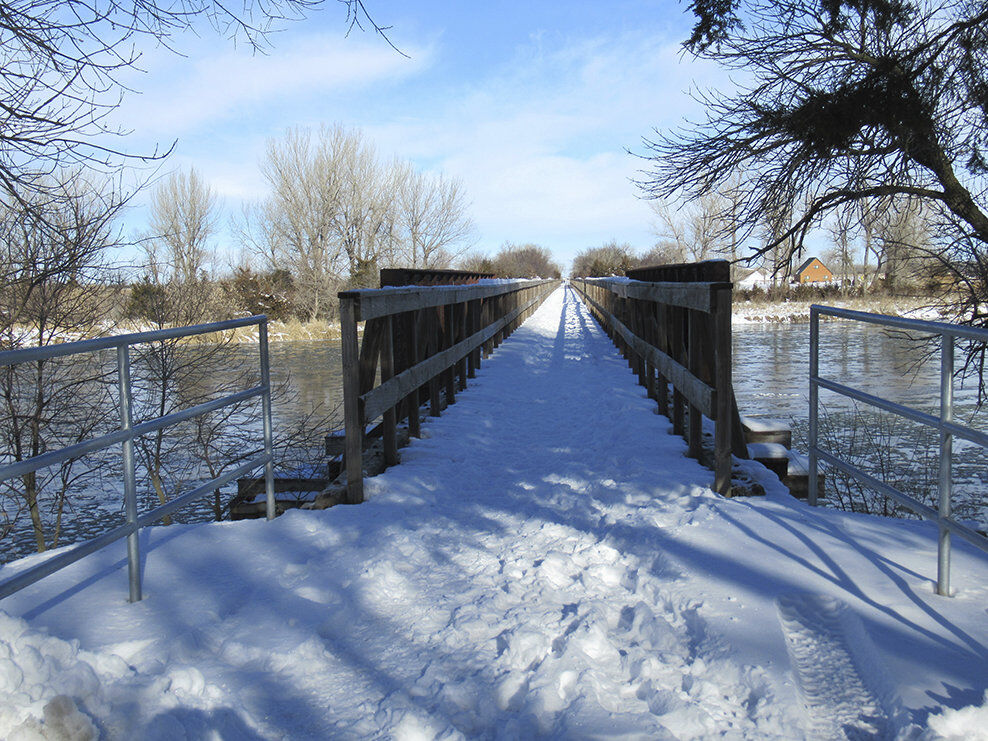 On Jan. 1, my wife and I traveled to Fort Kearny State Recreation Area to take a walk in the woods. We were participating in the Nebraska Game and Parks' First Day Hike program, an initiative to get people outdoors during the holidays.
The annual event is held in various state parks across Nebraska on New Year's Day. Since Fort Kearny was the closest, we decided to give it a try. Besides, the 10 a.m. start time wasn't too strenuous.
Although we arrived at the park a little early, there were already a few hikers ahead of us on the trail, which started at the Fort Kearny hike/bike trailhead which runs between Fort Kearny SRA and the Archway Monument along I-80.
Donning heavy coats and stocking caps, we headed out. The first portion of the trail had been cleared of snow up to the Fort Kearny Bridge spanning the Platte River. Once we reached the bridge, though, we were trudging through snow. Thankfully, we'd both worn waterproof boots.
It was a beautiful, calm morning. Ice chunks floated lazily past us in the shallow river below the bridge. We didn't go much farther beyond the river bridge before turning back. Trudging through the snow quickly took its toll. However, the hiking trail extends all the way north to I-80, where it goes through a tunnel under the interstate, and then turns west towards the Archway and Kearney.
On the way back, as we were nearing the south end of the bridge, my wife spotted movement up ahead. A whitetail doe was crossing the trail not 50 yards in front of us. Despite the fact that'd we'd been talking and laughing just a few moments earlier, she didn't seem to hear or notice us.
Then she was gone, across the trail and into the woods before I could get the camera out.
"I bet no one else saw a deer on this hike today," my wife whispered.
Indeed, wildlife was scarce. No geese honking, no squirrels scampering, just a few rabbit tracks in the snow and a lone hawk overhead. While the rest of the world may have been in turmoil, the new decade had dawned peacefully along the Platte.
Back at the parking lot, we were greeted by volunteers who offered us hot chocolate in to-go cups. We sipped on the cocoa on our way back to Grand Island, our bodies gradually warming, our souls already warm.
Sadly, there won't be any cocoa awaiting First Day Hikers this year. Volunteers and park staff will not be on-site this year due to the pandemic.
"The current health situation has caused us to adjust our plans this year," said Bob Hanover, Assistant Parks Division Administrator with the Nebraska Game and Parks Commission.
"First Day Hikes will be a self-guided activity to kick off both the New Year and the 100th anniversary of Nebraska's state parks. State parks offer a place to engage in healthy outdoor activities, and we encourage everyone to take a First Day Hike."
Besides Fort Kearny, other state parks and recreation areas with hiking trails suitable for a wintertime stroll on New Year's Day include Mormon Island south of Grand Island, Windmill south of Gibbon, Ponca in the northeast and Indian Cave in the southeast, as well as Platte River, Schramm, Rock Creek Station and Johnson Lake.
Wherever you live, there's likely a state park with a hiking trail near you.
Don't forget, vehicles will need a 2021 Nebraska State Park Permit to enter state parks and recreation areas on Jan. 1. Annual park permits cost $31 and $16 for a duplicate permit for a second vehicle.
Daily park permits only cost $6, but if you plan to visit state parks throughout the year, the annual permit is the way to go. Plus, it would make a great stocking stuffer for that outdoor lover in your household this Christmas.
Celebrate the beginning of 2021 (and the end of 2020) in one of Nebraska's beautiful state parks.
Jarrod Spilger writes about the outdoors for the Independent.