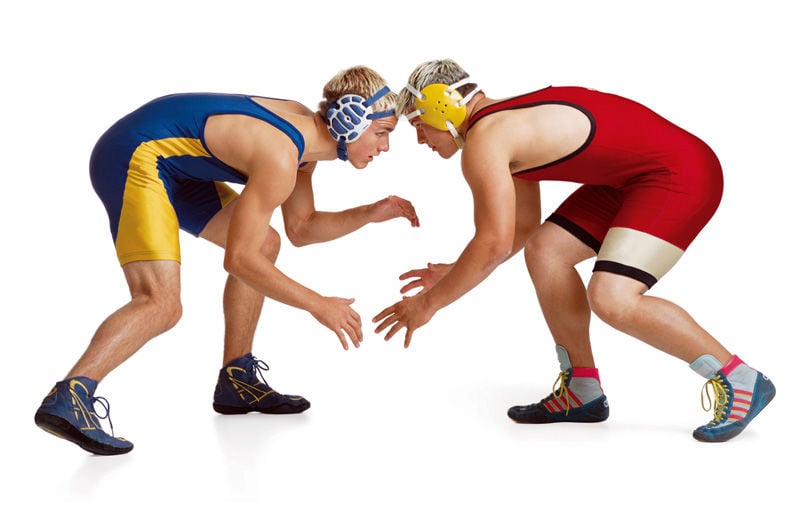 If a high school is having success in one sport, chances are it will be successful in another.
Aurora wrestling coach Derek Keasling hopes that is the case.
So far, it is. After the Huskies finished as the Class B state runner-up in football, many of those players are on the wrestling team and are having good seasons. The Huskies are as high as No. 2 in huskermat.com and No. 3 in both the Nebraska Scholastic Wrestling Coaches Association and NEwrestle.com, while having seven wrestlers ranked in the three wrestling publications, including two No. 1s. Their most recent success came at the Rumble in River County dual tournament at Nebraska City where the Huskies went 5-0.
"Success breeds success, and confidence from football carries over into wrestling," Keasling said. "The kids are performing very well right now and hopefully they can continue to do so."
The season started smoothly after football got over. After Keasling gave the football players a few days off, almost all of them came back at almost right where they needed to be as far as weight goes.
"I was actually surprised by that," Keasling said. "It's been huge because it starts the season off the right way. There were times where we thought we would split some guys at a weight class but hadn't really had to do that."
Seniors Caden Svoboda and Trevor Kluck have had the most success for the Huskies. Kluck is currently the school-career wins leaders with 167, a record he set around the second week of the season. Both are three-time medalists with Svoboda being a finalist last year. Both are currently ranked No. 1 at 106 and 145, respectively with Svoboda's record at 29-2, while Kluck is 32-1 on the season.
"Those two are going to hold a lot of school records when their careers are done," Keasling said. "They found success right away when they were freshmen. The kids in youth wrestling are seeing that and that's getting them to work hard to where they want to be successful as those guys were in their careers. And they look up to Trevor and Caden."
While those two have had most of the success, Keasling has credited fellow senior Jeremy Oswald as well. Oswald is 31-5 while competing at 120 this season.
"He's having a great year despite being a very tough weight class," Keasling said.
"He works so hard and is definitely one of the leaders and captains of our squad. He might not have the success that Caden and Trevor have had but has still been very successful. There's years where he might have been the best wrestler on a lot of teams. He's been great to have."
Aurora's big men are having a lot of success from Mack Owens (No. 5 at 182), Brekyn Papineau (No. 4 at 195), Jack Allen (220) and Aaron Jividen (No. 5 at 285). Keasling said there are a lot of intense battles with the four kids in practice.
"Those guys are having great seasons for us, and a few of them might be in the running for a state championship like Caden and Trevor are," Keasling said. "They all work extremely hard. That makes that side of the room with those big guys fun and they just keep getting better and better.
"And we have guys like Colin Kennedy (113) and Britton Kemling (152) and others who have been doing well for us too."
The Huskies have come up with the motto "In the hunt" because they feel they have a chance to be in the running for the Class B title at the end of the season. Keasling said he knows it will be a challenge with Gering, Beatrice, defending Class B champion Hastings and others.
"That's been our goal all year and I think we are in the hunt," he said. "I think we have three good chances at individual state champions and have a few other finalists if things go right at the state wrestling tournament. We have our horses but we have our helpers too."
But Keasling knows a few things have to happen if that is a possibility, especially with all the COVID-19 concerns.
"We need to stay away from quarantines and being positives from tests. Those are things that could derail us because if we lose two weeks of practice, that's going to hurt," Keasling said. "It's not only taken a team sacrifice but a few family sacrifices to make sure we are doing the necessary things to be sure we are there at the end."
But for right now, Keasling said he likes where the team is at, even though there are some things the Huskies can get better at.
"We're healthy as far as an injury standpoint, from a COVID standpoint and we're wrestling very great right now," Keasling said. "I feel very confident in where we are at and the kids are having fun competing and practicing."
Aurora will compete at the Adams Central triangular Thursday, then will head to the David City Invite Saturday.
A few wrestlers reached the 150-win mark last week.
Northwest senior Grady Arends reached that mark during the Vikings' 64-12 win over Seward. Central City's Sam Moore did that as well at the Northwest duals tournament. He also captured his 100th career pin during the meet.
Northwest's Austin Cooley captured his 100th career victory at the Northwest dual tournament, while Grand Island's Kolby Lukasiewicz recorded his 100th career win at the Beatrice Tournament two weeks ago.
Marc Zavala covers wrestling for The Independent.