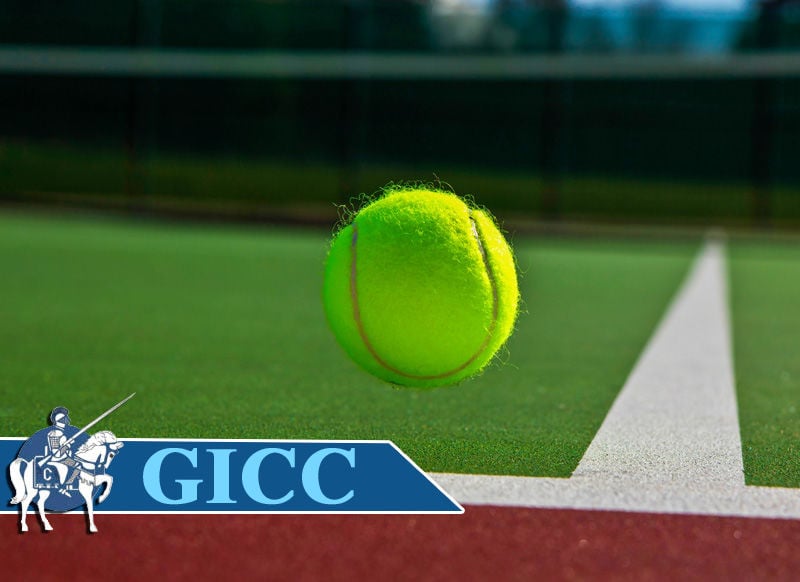 LINCOLN — After sending two of its teams into the semifinals of the Class B state tennis tournament, Grand Island Central Catholic is sitting in third after day one.
Both the No. 1 doubles (Jackson Farias and Jackson Henry) and the No. 2 doubles (Koby Bales and Jonathan Schardt) reached the second day by winning a pair of matches as the Crusaders in third with 26 points after Thursday's action at Woods Tennis Center.
Omaha Skutt leads the team race by two points over Elkhorn Mt. Michael with 36 points.
"I thought our kids stayed focused and competed well," GICC coach James Lowry said. "All the credit goes to the kids for doing that."
The No. 2 doubles team of Koby Bales and Jonathan Schardt, who are the No. 4 seed, earned their way after defeating Ty Dittbrenner and Max Meyer of Beatrice 6-3, 2-6, 10-6 in the quarterfinals. The two takes on top seed Gavin Brummund and Avelino Hanmer of Omaha Skutt.
"That was a nice win over a talented Beatrice team. It was the first time they've played together and to make the final four and faced adversity of playing in a third set today," Lowry said. "It was a great job by them both."
The No. 1 doubles team of Jackson Farias and Jackson Henry, the No. 3 seed, didn't have any problems reaching their semifinal match as they defeated Lucas Bohlen and Nicholas Kulwicki of Adams Central 6-1, 6-2. The two will take on William Mallisee and Ethan Pentel of Elkhorn Mt. Michael.
"They just keep rolling along," "They find a way to keep balls all the time. It's just pure hustle and they never give up on a point."
Bowdie Fox, No. 7 at No. 2 singles, went 1-1 on the day. He lost his quarterfinal match to No. 2 seed Connor Barrett of Omaha Skutt 6-0, 6-1. He is still alive for a medal as he is in the consolation rounds.
"He ran into a good player but I can't complain with how he competed today," Lowry said. "He's made great strides this year and I think he'll continue to get better."
At No. 1 singles, No. 11-seed Caden Menagh went 1-1 but lost in the second round to No. 6 seed Hogan Wingrove of Waverly and is eliminated from the tournament.
"He came through in that first match. I think the sky's the limit for him. Those four points in the first round were big for us," "I have a feeling he'll put a lot of time to become a better player."
Lowry said the Crusaders just need to continue to stay focused and have fun while playing on the second day of the tournament.
"When you get into the final four, we just need to go out and keep playing and do what they've done all year," Lowry said. "I think the kids have prepared well all year."
The Grand Island Senior High boys tennis went 0-4 in their matches at the Harry & Gail Koch Family Tennis Center at Tranquility Park Thursday.
Kaleb Brosz fell to Norfolk's Jackson Schwanebeck at No. 1 singles, while Izaak Pierson lost a 6-0, 6-0 decision to Fremont's Shane Miller.
The No. 1 doubles team of Leizer Chi Acosta and Alexander Roeser fell to Omaha Westside's Daniel Brocaille and Nolan Ray, while Alex Morente Riz and Diego Espinoza Garcia lost to Millard South's Carter Eastridge and Talik Runge 6-0, 6-0.
Be the first to know
Get local news delivered to your inbox!