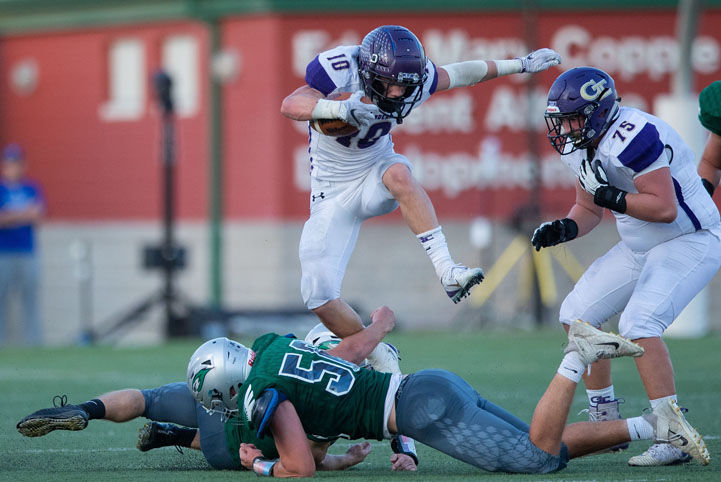 There wasn't any furious studying of video for the Grand Island Senior High football coaching staff to figure out an unfamiliar opponent once this year's Class A state playoff first-round match-ups were announced.
The sixth-seeded Islanders (8-1) host No. 11 seed Lincoln Southwest (5-4) Friday at 7 p.m. at Memorial Stadium.
Grand Island topped the Silver Hawks 34-13 just two weeks ago in Lincoln.
Islanders head coach Jeff Tomlin said such a quick rematch does change preparations for an opponent.
"You really have to analyze where they exposed you a little bit," Tomlin said. "Then you know they are going to counter with a little different plan, so your game plan changes as well. But you can't change things so drastically that you get away from what works.
"It's a credit to our guys that our preparations have gone really well this week. We've focused a lot on the fundamentals."
In the first meeting, the Islanders took a 17-0 lead midway through the third quarter before Southwest got on the scoreboard.
The Silver Hawks were limited to 62 yards on 33 carries but were 19-for-26 passing for 270 yards. Quarterback Laken Harnly threw for one touchdown and no interceptions.
"We did a really good job of limiting their run game and did not do as well as we hoped against their passing game," Tomlin said. "I have a lot of confidence that our secondary will respond with a great game Friday. We still need to do a good job of stopping their run game, which is formidable."
Caleb Francl had 182 yards of total offense in the first meeting with a touchdown catch of 50 yards and a 4-yard TD run to spark Grand Island's offense. Carson Cahoy threw for 161 yards and rushed for 105, 71 of which came on a touchdown run in the second quarter.
"Offensively we had some big plays, and you'll take those whenever you can get them," Tomlin said. "But we also need to keep our offense moving and sustain drives. We need to get first down after first down."
The starters and contributors who return from last year's team that made it to the state championship game have four playoff games of experience under their belts. And those were four games in which the starters were required to play until the very end.
"A large group has been there and experienced the playoff intensity," Tomlin said. "They definitely have big game experience. They should be able to weather some storms and respond to adversity."
The coach expects another competitive field in Class A.
"There are some really good football teams in Class A," Tomlin said. "There is a lot of balance and outstanding teams. I think practically any matchup can go either way after the first round, which is a little more tipped since you have 1s vs. 16s and so forth. But once the dust settles from the first round, anybody can win."
Be the first to know
Get local news delivered to your inbox!