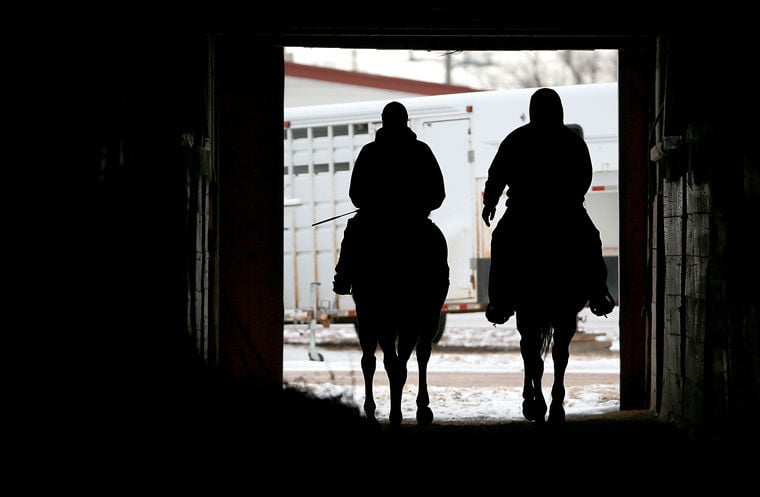 Trainer Terry Hemmer has won his share of blankets over the years.
The cold spell that hit much of the country a week or so ago gave him a use for some of those blankets.
"We finally found a use for all those blankets we won over the years," Hemmer joked.
One of Hemmer's top blanket winners is Love At Night. She'll be going for another one Saturday in the 32nd running of the four-furlong, $15,000 Bold Accent Stakes, a race for fillies and mares, at Fonner Park.
The 8-year-old daughter of Mr. Nightlinger and Lovesablumin has 13 wins in 22 career starts. That record includes 10 wins in 14 starts at Fonner Park.
She won the first race of her career at Fonner in 2017 with jockey Jake Olesiak on board, and Olesiak will be back in the saddle again on Saturday for the first time in a couple of years.
Olesiak broke Love At NIght for Hemmer when she was a filly.
"He sent here with my wife to get her started and do the gate work and all that stuff," Olesiak said. "He trains off the farm so a lot of times he'll send them to someone and he sent her to Megan."
Love At Night is the second-favorite on the morning line in a full field of 10 at 4-1. Such Great Heights, trained by Robert Hoffman and ridden by Jason Eads, is the favorite at 5-2.
"She obviously fits really good in there," Olesiak said of Love At Night. "She has a ton of gas. If she gets away from the gate, she'll be tough to beat."
Hemmer's wife Rita does much of the work with his horses. Love At Night is known for her cantankerous personality and Rita has to find a way to keep her in line.
"She's her same old ornery self," Terry Hemmer said. "Nothing has changed there. Rita has her hands full with her."
Love At Night hasn't raced since finishing third in an allowance race against the boys May 20 at Fonner. She led through much of the race, but couldn't hold off Super Charlie and Be My Shadow down the stretch.
"That was just a little tough," Hemmer said. "There are some good Nebraska-bred colts and geldings too. There was nothing to be ashamed of with the way she ran. I was really proud of her. She tried her heart out and that's all you can ask."
Love at Night opened last season by winning the Bold Accent Stakes for the second straight year. She followed that up by winning the Orphan Kist Stakes, also for the second year in a row.
The Runza Stakes didn't go so well for Love At Night. She was second at one point, but faded to eighth in that race which was won by Eaton's Memory.
"They started shipping in those big horses that didn't have anyplace else to run," Hemmer said. "She couldn't handle them, but then she ran pretty well with the boys."
Hemmer elected to take Love At Night out of training after the Fonner Park meet concluded instead of possibly running her in sprints at Horsemen's Park or Lincoln Race Course.
"There weren't any other races for her, and I didn't want to keep her in training for those one-furlong racs," Hemmer said. "We'll see what happens this year. That's all we can do is just try."
Now Hemmer is ready to get Love At Night back to the post in a race that includes seven mares and fillies making their first start at the Grand Island track. That doesn't mean it will be easy.
"We got her in the eighth hole in the eighth race," Hemmer said. "Ain't that lucky?
"It will be a tough race. It looks on paper like there's a lot of speed. There are classy old mares in there."
Love At Night has plenty of speed too. She likes to go to the front as soon as possible, and much of the time she's fast enough to stay right there.
"She has a lot of speed," Olesiak said. "She's a classy old mare. She loves her job."
Hemmer would love to see Love At Night back in the winner's circle on Saturday.
"It will be a tough race," Hemmer said. "I think it will be tougher than it has been. There's a full field and that's good to see."
— Although the mask mandate has been lifted in Grand Island, Fonner CEO Chris Kotulak wants to remind fans that the Fonner will enforce the wearing of masks until further notice.
— Olesiak won four races Friday at Fonner, including the late daily double.
— The biggest win ticket of the day was $28.60 on Awesome Valentine in the fourth race.
— The Dinsdale Pick 5 jackpot had a chance to go out Friday. If either Songster or Mitchell County won the eighth race, someone would have been a big winner. But Olesiak roade Big Macintosh to a win and the Pick 5 jackpot, which was over $13,000 to start the day, carries on into Saturday.