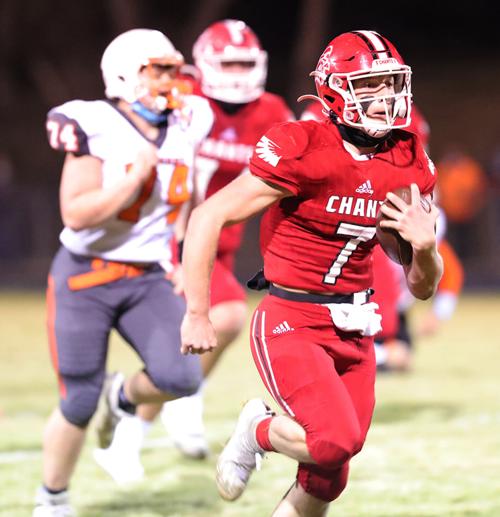 If Ord can claim its first football state championship on Friday afternoon, the Chanticleers will have accomplished it by going through a who's who of Class C football.
In the first round, Ord defeated Bishop Neumann, the owner of three state championships and nine finals appearances.
Up next was Aquinas, an 8-time state champion and 11-time finalist.
The semifinals brought a victory over Oakland-Craig, owner of two titles and two runner-up finishes as well as being the defending Class C-2 state champion.
Awaiting in Friday's C-2 championship game is Archbishop Bergan, a program that has been to four finals but is attempting to win its first title since 1979.
"If we win a state title by playing these teams, it'll mean we've earned it," Ord coach Nate Wells said. "It'll mean validation. I think that's the right word – I'm not an English guru.
"This is a really special group of kids who have worked extremely hard. This is a true team from the players down to the student managers. They all have played a big part in our success. The junior high kids are a part of it. The parents are an important part. The community is a big part."
Friday's 3:15 p.m. final at Midland University's Heedum Field pits a pair of undefeated teams that have been among the favorites in Class C-2 since the preseason.
Archbishop Bergan (12-0) features a balanced offense that averages 195 yards rushing and 182 yards passing.
Junior quarterback Koa McIntyre is 132-for-211 for 1,988 yards with 31 touchdowns and seven interceptions and has ran for 1,199 yards with 16 more scores.
"They are really fast," Wells said. "Their speed jumps off the screen. A lot of their offense is scoring on big plays. They have a lot of playmakers offensively, and their quarterback is a great talent."
Ord (11-0, officially 10-0) relies more on a ground game with quarterback Zach Smith and running back Tommy Stevens piling up yards behind a talented line led by 6-foot-5, 295-pound senior Riley Setlik.
Stevens has 1,528 yards and 27 touchdowns on 218 carries. Smith has added 913 yards and 15 touchdowns while passing for 1,111 yards with 16 TDs.
Even though it is a championship game – Ord's second comes two years after a loss to Aurora in 2018's C-1 final – the Chanticleers are continuing a business-as-usual approach.
"Football still comes down to taking care of the ball, blocking and tackling," Wells said. "It'll come down to who wants it more. That's football. We'll need to execute at a high level."
Winning a state title would cap off an impressive stretch during which Ord has taken its program to a whole new level.
Over the past three years, the Chanticleers have won seven playoff games. That doubles the number of playoff victories in school history.
If No. 15 comes on Friday, it'll be one to remember in Ord.
-- Attendance will be limited to approximately 500 fans per team. However, the game will be one of two that NET will broadcast live on Friday (Class A is the other). The other five championship games will be streamed live and rebroadcast on NET at some point in December.
-- Ord is in an area of central Nebraska that has become a hotbed for high school football.
Wells said a big reason for that is a youth football league that starts in third grade. This year's seniors were a part of that league.
Other schools whose students can participate in the youth league include D-1 finalist Burwell, C-1 semifinalist St. Paul and D-2 semifinalist Central Valley.
Be the first to know
Get local news delivered to your inbox!