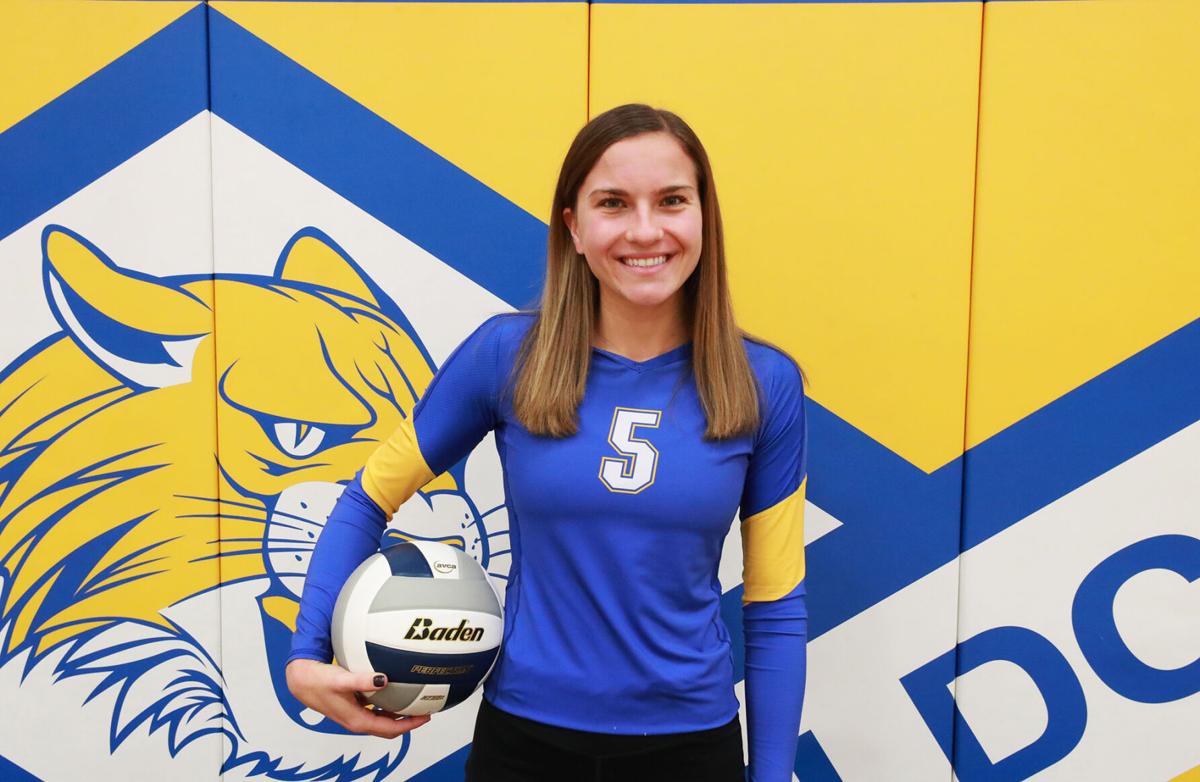 Josie Jakubowski was the kind of player who could have played any position in volleyball.
She started out as a setter when she was in junior high. When she got into high school, she started as a middle hitter as a freshman. When she played club volleyball in the offseason, either for the Nebraska Juniors or South Central, she would play some libero.
Jakubowski said all that experience helped her become a better player. During her St. Paul volleyball career, Jakubowski finished with 1,128 kills and 882 digs, while playing outside hitter during her final three years.
"I played a little bit of everything, and that helped me become a better all-around player," Jakubowski said.
During her senior year, she finished with 377 kills with a .285 hitting efficiency, while also coming away with 315 digs and a team-high 41 ace serves, helping St. Paul finish 34-1 and a state runner-up finish for the second-straight season.
For her efforts, Jakubowski has been named captain of the All-Heartland Super Squad for the 2020 season.
Wildcat teammates Olivia Poppert and Paige Lukasiewicz join Jakubowski on the Super Squad team, along with Hastings St. Cecilia's Katharine Hamburger, Grand Island Central Catholic's Chloe Cloud, Adams Central's Caitlyn Scott and Aurora's Kassidy Hudson.
St. Paul coach Matt Koehn-Fairbanks said Jakubowski was a good volleyball player by what she did on and off the court, as well as being a leader for the Wildcats.
"She watched all the scout videos and watches herself and the team on film. She's good at figuring out things that we could exploit with other teams," Koehn-Fairbanks said. "She's hard on herself and I think that's what helped her become the player that she is. She does her best in everything everyday and kids look up to her because of that.
"She is a great high-school volleyball player because she's good at every position, whether it's serve receive, hitting and would have even been a good backup setter. She's a good leader and steady at everything."
Jakubowski came through in the clutch when the Wildcats needed her to be, especially later on in the season. She had 19 of her match-high 25 kills in the final three sets against Grand Island Central Catholic in the C1-8 subdistrict final. She also had five kills in the fifth set against Lincoln Lutheran in the state semifinals. In both of those matches, St. Paul was down
2-0 and trailed by at least five points in the third set become rallying to take both matches in five sets.
Koehn-Fairbanks said Jakubowski was a player the Wildcats could depend on when they needed her to be.
"When we needed her in matches, especially at the end of the year, she rose to the occasion to be that go-to girl," he said. "Josie played like an All-Star in those late matches."
As Jakubowski closes the books on her senior season of volleyball, she and her senior teammates finish as part of a class that went 104-4 during their final three years including losing two matches the past two years with back-to-back state runner-up finishes. That included St. Paul not losing a set until the state semifinals her junior year. She said she wouldn't have expected all that when she set foot into high school.
"That's just mind-blowing hearing that's we did during my last three years of high school," she said. "We have the best coaching staff and that's a reason why we had four losses during the final three years. It's been fun playing with my teammates. I made lots of memories with them."
Koehn-Fairbanks said Jakubowski will be missed.
"She does so many things for the team that you just can't stat all of the things that she does," he said. "We're not going to be able to replace her with one girl. It might take six girls to replace a kid like her."
Even though the Wildcats finished as the state runner-up for the second-straight season, Jakubowski said she was thankful to even play the season. She admitted that she was a little nervous about the season finishing when she heard a number of teams had to sit out and be in quarantine for a few weeks because of COVID-19 or if the season was even going to happened.
"We didn't know if the season was going to happen or finish it once we got started," Jakubowski said. "We tried our best to make sure we got to finish the season. I think it's awesome that we had a chance to play this year and compete at the state tournament this year. I'm the glad the NSAA allowed us to have the season because it was a season to remember for St. Paul volleyball."