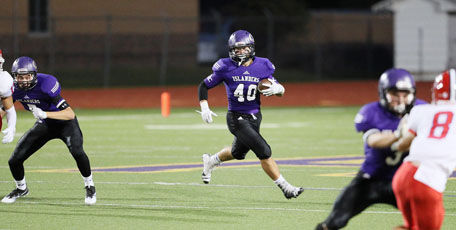 Grand Island Senior High's offense finally cut loose Friday night as the Islanders amassed 557 total yards and produced their highest scoring output of the season in a 41-15 homecoming victory over Millard South at Memorial Stadium.
The Islanders (4-2) once again found success with the potent one-two punch of running back David Garcia and quarterback Tyler Kress. Garcia rushed 15 times for 120 yards and three touchdowns and also had three receptions for 58 yards and another score, while Kress was 13-of-17 passing for 298 yards with two TDs and zero interceptions.
"It seemed like we were hitting on all cylinders," Grand Island coach Jeff Tomlin said. "We were running our inside zone and our running game was setting up our passing game."
After misfiring on his first two passes of the night, Kress completed 13 of his next 14 attempts and had 257 yards through the air by halftime as Grand Island took a 34-0 lead into the intermission. The 5-foot-10, 190-pound senior had TD passes of 86 yards to wide receiver Will Nordhues and 36 yards to Garcia on a screen pass.
"Tyler just keeps battling, studying and working hard and I can see progress in him every week," Tomlin said. "I'm just very proud of how he's led our offense. The kids have confidence in him — they know he can do the job.
"Tyler won over his teammates early. He's a tough kid and he competes hard, so I have really been impressed with how he's progressed."
After leading Grand Island on a four-play, 60-yard scoring drive to put his team ahead 41-0 on the Islanders' first possession of the third quarter, Kress took a seat for the final 1 1/2 quarters.
"Compared to game one, I'm a lot more comfortable," said Kress, who is a first-year starter. "I've gotten a better look at things now and I feel like I'm getting better every week. I've still got a lot of things that I need to improve on, but overall, I'm making progress."
Grand Island finished with 253 yards rushing on 41 attempts. Kress said the threat of Garcia breaking long-gainers definitely helps the Islanders' passing game.
"With David being able to run it inside, outside, strong, fast — whatever he needs to do — it helps us be able to throw the ball really well," Kress said. "But obviously, it all starts with the O-line. We couldn't do any of it without them.
"The deep ball opens up for us because we can run the ball and they pass (protect) so well. That makes our offense a pretty good threat."
After being stopped on its first possession, Grand Island went on to lead 20-0 with 1:38 left in the first quarter after Kress' 86-yard TD pass to Nordhues. Garcia's 6-yard TD run opened the scoring and Gerard Dunning added a 1-yard scoring run to make it 13-0 with 5:52 left in the first quarter.
Garcia had 14 carries for 96 yards in the first half.
"David is running tough," Tomlin said. "He's starting to really understand the creases in the zone. Our offensive line is, obviously, creating some really nice seams for him and they did a great job.
"We can always get better, but I thought the offensive line played well, David ran hard, Jon Kirkland ran hard and I thought Gerard Dunning ran hard and we continued to make throws and catches."
Defense also helped set the tone for the Islanders, who stopped Millard South (1-5) on fourth down at the Grand Island 14-yard line in the first quarter and again on fourth down at the GISH 4 early in the second quarter.
Defensive lineman Griffin Wenz had three sacks, linebacker Kohlton Keezer had 11 total tackles and an interception and linebacker Reid Bednar had seven tackles and a forced fumble to lead Grand Island's defense. Kinne had two pass breakups and a fumble recovery and Sextro added a pair of pass breakups for the Islanders.
"We came up with a couple of fourth-down stops on defense in the first half, which I think was a key factor," Tomlin said. "Early, I thought our cornerbacks, Tyler Sextro and Payton Kinne, did a great job and our safeties did a heck of a job of breaking up passes. They were challenging us on the deep post and we were more than game and up to the challenge.
"I thought we made some great plays in the secondary and as the game progressed, we continued to get a little bit more pressure on the quarterback. He's a good player."
Quarterback Andy Reel led Millard South, completing 23-of-35 pass attempts for 234 yards, including a 12-yard fourth-quarter TD pass to wide receiver Oscar Lopez. Running back Ryan Lawrence rushed 16 times for 74 yards and had six receptions for 43 yards for the Patriots.
Tomlin said he was pleased with the way the Islanders responded to the previous week's 56-21 loss at No. 1-rated Omaha North.
"This group is a bunch of fighters and I'll go anywhere with them and compete against anybody," Tomlin said. "We feel really good about how they responded this week. I'm really proud of them."
Said Kress: "We were all kind of down about the Omaha North game because we didn't feel like we played as well as we could've, but we came out and played well tonight and we felt really good about this one. Now, it's on to next week — every week is like a playoff week for us."