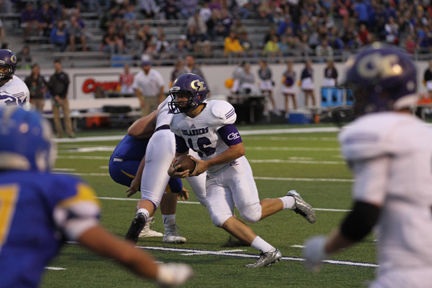 NORTH PLATTE — Consider "Bounce-Back Week" a success for Grand Island Senior High.
After suffering a season-opening home loss to archrival Kearney, the Islanders unleashed a dominant offensive attack to go with a solid defensive performance as they beat Class A No. 10-rated (Omaha World-Herald) North Platte 34-7 Friday night at Bauer Field.
After falling behind 7-3 late in the first quarter, Grand Island (1-1) closed by scoring 31 unanswered points. That included 17 straight in the second quarter as the Islanders took a 20-7 lead to the intermission, piling up 301 total yards and 20 first downs.
"Our theme this week was, 'bounce back,'" said Grand Island's Griffin Wenz, a 6-foot-3, 260-pound guard/defensive end. "We just really just wanted to come out and prove ourselves because we felt like we left some things out on the field last Friday night.
"We just knew that we had to be ourselves, cut it loose and set it free because we feel like we can be one of the top teams in the state when we do that."
Islanders coach Jeff Tomlin said he was pleased with the way his squad responded on the road against North Platte (1-1), which opened the season with a 42-7 win over Fremont.
Tomlin admitted that Grand Island began the week still stinging from its 26-14 setback against the Bearcats.
"It took us a day — we didn't practice as well as we had been practicing through Tuesday," Tomlin said. "But when we got to Wednesday and Thursday, they really came to improve and did a great job. The Kearney game was also a very hard-hitting game and that sharpened us up.
"I think our kids know that at any given time, as long as they don't beat themselves, they've got a chance against anybody."
The Islanders put together two solid drives in their first two possessions, but led only 3-0 after a Brian Covarrubias 30-yard field goal and an interception. The Bulldogs took their only lead when Braiden Ruffin found Bryson Krull for a 9-yard touchdown pass to put North Platte ahead 7-3 with 53 seconds left in the first quarter.
However, Grand Island answered when quarterback Tyler Kress connected with wide receiver Payton Kinne for a 29-yard TD pass. After another Covarrubias field goal, the Islanders made it 20-7 by driving 54 yards on six plays — all runs — to score on a 13-yard run by Kress with 1:14 left before halftime.
Grand Island finished with 297 yards rushing against an injury-depleted North Platte defensive line. The Islanders were led by David Garcia's 122-yard performance on the ground that included a 65-yard TD run in the fourth quarter. Gerard Dunning added 74 yards rushing on 19 carries and Johnathan Kirkland carried 11 times for 48 yards.
"It felt really good to control the line of scrimmage, especially coming off of last week and a tough loss," Wenz said. "As an offensive line and defensive line as a whole, we felt we could've done a lot better just in terms of getting a push.
"We wanted to bring a lot more effort and a lot more energy to this game. I think we certainly did that."
Tomlin said GISH's offensive line of Wenz, Cristian Aparicio, Jackson Puente, Ashtyn Keezer and Evan Ludwig exerted control immediately.
"When you look at our returning guys, that's where most of our experience is," Tomlin said of his offensive and defensive lines. "They established themselves right away, I thought our running backs ran exceptionally hard and Tyler made some timely throws to move the sticks in that first half when we were stalled a little bit.
"All around, offensively, it was just a big team effort."
The Islanders used big plays for their two second-half scores. Kress connected with Kinne on a 60-yard TD pass with 14 seconds left in the third quarter and Garcia scored from 65 yards on a run with 8:32 to play.
"The big pass to Payton was a great throw and a really good catch because Payton had to look over his opposite shoulder," Tomlin said. "Then there was David's big run. Both of those plays were kind of game-clinchers or back-breakers that forced North Platte's hand into having to throw and allowed us to bring pressure, defensively."
In his second high school start at quarterback, Kress overcame a first-quarter interception to finish 18-of-28 passing for 213 yards with two TDs. The senior also rushed seven times or 39 yards.
"Tyler was more in command tonight," Tomlin said. "I think the game is slowing down a little bit for him and he was confident in his offensive line to give him time. North Platte has two great defensive ends that we knew were going to pressure at times and Tyler was able to step up in the pocket and make plays.
"Tyler was just really clutch."
So was Grand Island's defense. North Platte, which entered the contest with Class A's top offensive output with more than 500 yards against Fremont, was limited to 168 total yards, including 33 yards rushing on 20 attempts.
"Our defensive line played super and I was really proud of our secondary," Tomlin said. "We've got some young guys back there, but they rallied and played well. Payton had a big pick in the end zone, which thwarted a scoring drive for them.
"All day long, our secondary came up big and when we needed to bring pressure, our kids were making it hard for (Ruffin) to get his feet set to throw."