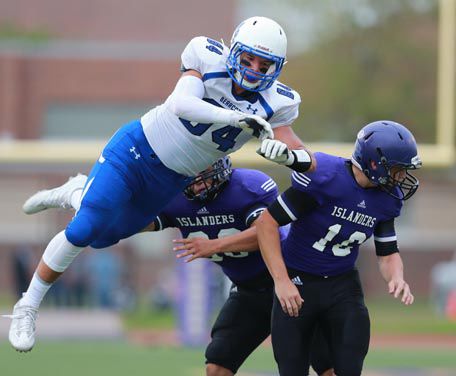 Kearney's defense posted a second-half shutout to keep the Bearcats from coming away empty for a fourth straight year in their rivalry game against Grand Island Senior High.
A couple of key stops in the second half, including one on the goal line, helped the Class A preseason No. 8-rated Bearcats top the No. 7 Islanders 26-14 Friday at Memorial Stadium.
Kearney capped off its strong defensive showing with a Zach King interception in the final minute.
"Our defense did a tremendous job, especially in the second half," Kearney coach Brandon Cool said. "We got the goal-line stand which was critical, then we got the stop there right at the end of the game, which made a big difference for us to run out the clock.
"I got a little bit nervous there. We had a lot of opportunities where they were third-and-8, third-and-9 and just didn't got the stop we needed in that first half."
Kearney led 16-14 at halftime and added a 28-yard field goal from Leo Palomo with 8:58 left in the third quarter.
A 35-yard punt return by Payton Kinne gave the Islanders some life later in the period, but Grand Island came away empty after being stopped on fourth-and-1 from the 2-yard line.
The Islanders started their next possession on the Kearney 38 but again couldn't convert on fourth-and-2 from the 30.
"We came up short on two fourth downs, two key fourth downs with one down there on the goal line," Grand Island coach Jeff Tomlin said. "It's a totally different deal even with all of our penalties if we're able to convert. We just didn't make some of the money down plays, the third and fourth down plays that we had to make."
Kearney all but put the game away on its ensuing possession, driving 69 yards in 13 plays while eating 5:44 off the clock. Nate Berg's second touchdown of the game, this one from 12 yards out, gave the Bearcats a 26-14 lead with 3:55 left. He finished with 95 yards on 15 carries.
"They were winning the field position there at the end of the third quarter and early part of the fourth quarter," Cool said. "For us to drive the ball and take a lot time off that clock, that was tremendous.
"That was a drive that Grand Island did in the first half, and we were able to counter that and come back and drive in the second half."
Kearney outgained the Islanders 278-263, and G.I. was limited to 68 yards in the second half.
"I thought our effort was outstanding," Tomlin said. "It was too many shoot-your-foot unforced errors type of deals.
"They had a lot to do with it. They played extremely well and took advantage of some of our schemes when they were going four wides and able to pitch the ball a little bit. I think we made an adjustment and took that away, but they found some seams inside, so they did a good job of making adjustments."
Grand Island turned the ball over twice and was called for nine penalties, including an offensive facemask in the end zone that resulted in a safety for the first points in the game.
Kearney turned a partially blocked punt into a short field in the second quarter, and Kanon Koster tossed a 26-yard score to Brock Marlatt to give the Bearcats a 16-7 lead with 6:35 remaining. Koster finished 13-for-19 for 120 yards.
"Penalties obviously hurt us, and that's disappointing," Tomlin said. "It was poor attention to detail. Turnovers hurt us. Whenever you allow a blocked punt, you lose about 90 percent of those games. We've got to clean that type of stuff up. We're not proud of that."
Both of Grand Island's touchdowns came on long drives. A 10-play, 94-yard march ended with Tyler Kress connecting with Kinne on a 15-yard score to put the Islanders up 7-2 with 4:02 left in the first quarter.
Kress was 17-for-29 for 138 yards with one touchdown and one interception in his first varsity start.
A Gerard Dunning 2-yard plunge capped off an 11-play, 69-yard drive with 2:01 remaining in the second quarter.
Tomlin said the offense did a lot of things right on those possessions.
"I think our tempo was good," he said. "(The Bearcats) were a little bit tired. I thought Jon Kirkland came in and ran the ball well. We were running zone well, Tyler was throwing the quicks well, Payton caught some balls, Will Nordhues caught some balls.
"We had some guys making plays, and I knew our receiving corps could."
Following the conclusion of the game, Kearney's players and fans celebrated ending three years of frustration against their rivals.
"Obviously it's a huge rivalry game, and I thought our kids played their hearts out," Cool said. "It's one of those things where they were locked in all week long, and there's not a lot of motivation that a coach has to do during the week, especially for week one."