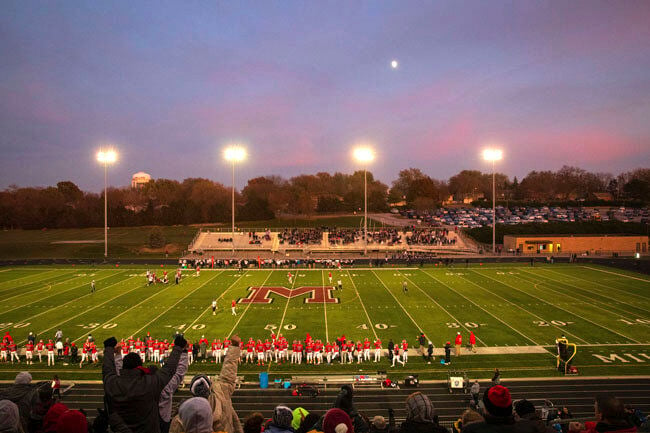 The status of fall high school sports remains an unknown because of COVID-19 but a Wisconsin study indicates some student-athletes' well-being is at stake.
Throughout the United States, 23 states and the District of Columbia have modified their fall sports calendar while 27 states have not made an outright decision, including Nebraska.
California, Nevada, New Mexico, Washington, Virginia and the District of Columbia will not have fall football.
Wisconsin is the lone Midwest state to announce a plan for fall sports. The state pushed back the start of girls golf, girls tennis, girls swimming and diving, and boys and girls cross country to Aug. 17. The earliest practice date for football, boys soccer, and boys and girls volleyball is Sept. 7. Nebraska high schools are scheduled to begin practices Aug. 10.
On Monday, the National Federation of State High School Associations held a national online seminar with Dr. Karissa Niehoff, NFHS executive director, to discuss the current state of high school fall sports across the country.
"We need to be looking at trends in a staged process to make decisions," said Niehoff in a Zoom conference call. "It's very likely that within a state itself that you will see schools that are back to activity while other school districts are not, and even some that are delaying sports altogether.
"One of the very consistent things is that states across the country want kids to be back. We want kids participating in activities for a number of reasons."
The NFHS is the national leader and advocate for high school athletics, as well as fine and performing arts programs. Within the organization's 50 state associations and the District of Columbia, the NFHS serves 19,500 high schools and more than 12 million young people.
The NFHS writes playing rules for high school sports and provides guidance on a multitude of national issues.
NFHS is supportive of students returning to school and activities this fall as long as safeguards are in place, Niehoff said. She added that schools need to consider the effect cocurricular activities have on the growth, development and overall learning of students.
"There is research coming out of Wisconsin that over 3,000 student-athletes were researched and reported that over three times greater incidents of depression, likely linked to not being able to engage in school and their cocurricular programs," Niehoff said. "We want to make sure that in our education-based environment that not only are we paying attention to COVID, but also to the emotional and mental wellness of our students."
Niehoff said it's important that schools develop a plan for testing and a protocol on how to quarantine individuals who test positive for COVID-19.
"We are seeing our schools and programs look at a thermometer and non-contact temperature checks," Niehoff said. "We know a lot of our COVID carriers might be asymptomatic. I think what we will see as we phase into school and activity is some form of on-site testing with regard to temperature check, students wearing masks in class and social distancing in classrooms."
Youth sports, amateur sports and professional sports are occurring this summer. But the NFHS felt that was a quick turnaround for sports based on what its sports medical advisory committee suggested, Niehoff said.
She believes that education-based athletics are different than those sports due to the processes and protocols already established.
The NFHS believes fall sports can take place if they are phased in properly. It also is "very concerned" if no fall championships occur, as state athletic associations lost anywhere from $100,000 to $2 million in revenue due to no winter and spring championships, Niehoff said.
"If there are no fall championships, some state associations will be in pretty dire straits financially and will have to dip into reserves to fund championships going forward for at least a year," Niehoff said. "This is not a one-year problem. If there are no fall championships and no fall sports for our schools, then there are revenue impacts that go far beyond the one calendar year.
"We are very concerned from a financial perspective. But we also are concerned from a community perspective. We are advocating at a federal level for any bill that would support funding education itself."
Be the first to know
Get local news delivered to your inbox!