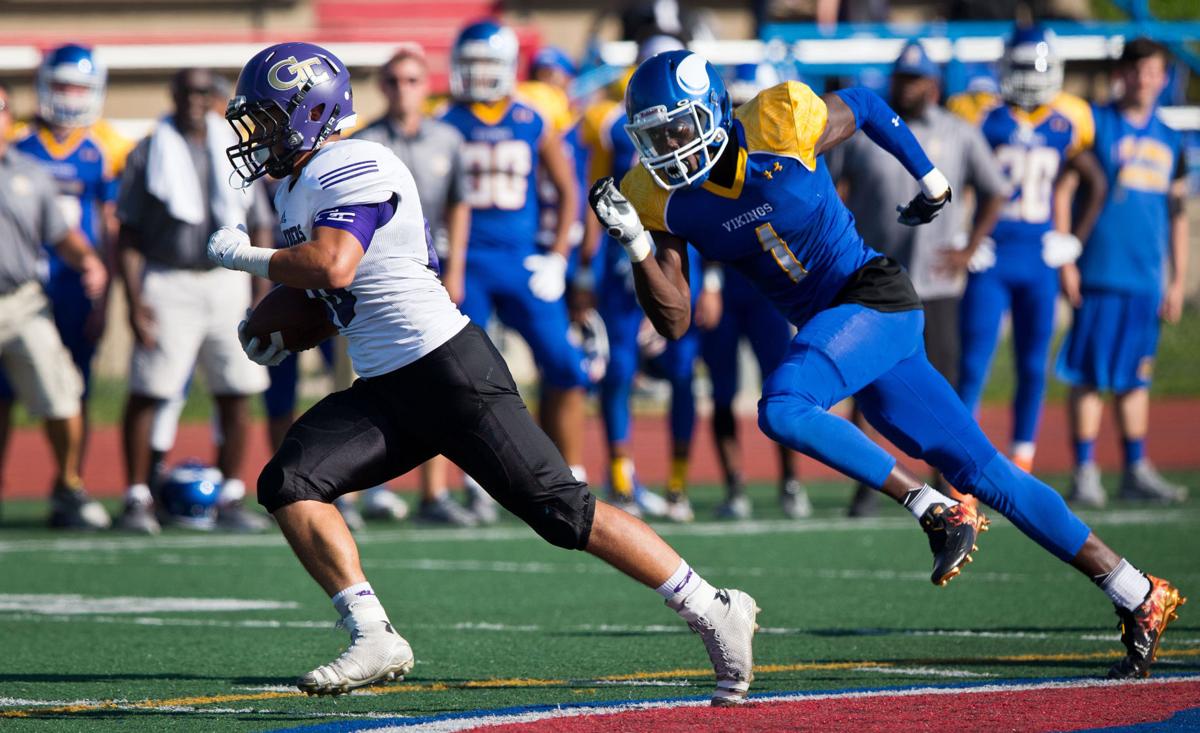 OMAHA — Grand Island Senior High found No. 1-rated Omaha North to be as good as advertised.
The Vikings raced to a 21-0 lead in the first quarter and led 49-7 at halftime on their way to a 56-21 victory over the No. 10 Islanders Friday afternoon at Omaha Northwest's Kinnick Stadium. The teams played with a running clock in the second half due to the 35-point rule.
"Omaha North is a very good team and we knew that going in — no surprises," said Grand Island coach Jeff Tomlin, whose team has seen its season end each of the past three seasons with playoff losses to Omaha North. "They're very deep (and) very great up front, so we weren't shocked at all with how good they are."
The Vikings (5-0) produced touchdown drives of 50, 44 and 36 yards, respectively, to lead 21-0 after the first quarter. Grand Island (3-2) contributed to Omaha North's favorable field position with an errant shotgun snap that resulted in a 24-yard loss on its second possession and ended its third drive with a 10-yard punt into the wind.
After the Islanders cut their deficit to 21-7, the Vikings responded with 28 unanswered points heading into the intermission. The dominant run included Zion Williams' 55-yard interception return for a TD and a 45-yard interception return by Vernon Johnson to set up another score.
"To compete with a team that good, you can't turn the ball over," Tomlin said. "You also can't play poorly on special teams, which we did a little bit.
"We had a couple of poor punts and (a snap) over (the quarterback's) head when we had a decent drive going. You can't make those mistakes. You've got to be almost error-free to even have a chance and we weren't."
Omaha North rushed 45 times for 285 yards. Six-foot-1, 220-pound Zander Gray led the Vikings with 115 yards on 10 attempts, including a 56-yard TD run.
As good as North's running game was, Tomlin credited quarterback Justin Jackson-Williams for keeping Grand Island's defense off-balance. The senior signal-caller completed 8-of-9 pass attempts for 92 yards, including a pair of TD passes.
"Their quarterback was stellar — he just doesn't miss," Tomlin said. "We'd force them into a second and 6 or a third and 7 and their receivers could run a slant or hitch pretty much at will. Even if we brought pressure, we couldn't get to the quarterback in time.
"Jackson-Williams is the unsung player on their team because he's really, really good and very efficient."
Grand Island's highlight was running back David Garcia, who rushed 12 times for 106 yards. That included a 54-yard scoring run, cutting Omaha North's lead to 21-7 with 11:42 remaining in the second quarter.
But after that, the Vikings put the game away. North scored the final 28 points of the second quarter and then drove 80 yards on 11 plays, overcoming three penalties to score their final TD with 4:10 left in the third quarter to make it 56-7.
"That's where your depth catches up to you a little bit, when you've got the same guys pushing on both sides of the ball," Tomlin said. "Our offensive line was getting a little bit of a push and doing some good things in the zone (running game), but then when we tried to turn around and (stop) them with the same guys, it's tough.
"No excuses there, but you just don't get the same push."
The Islanders scored a pair of fourth-quarter TDs as quarterback Tyler Kress connected with Payton Kinne on scoring passes of 34 and 2 yards. Kress finished 11-of-22 passing for 96 yards, while Kinne had four receptions for 48 yards and now has eight TD catches on the season.
The Islanders played without the services of starting wide receiver Will Nordhues, who was sidelined by an unspecified injury. Grand Island had a few anxious moments following Kinne's 2-yard TD catch as the senior stayed on the ground briefly with an apparent leg injury before walking off the field under his own power.
Tomlin said he hopes to have both Nordhues and Kinne back soon. Grand Island returns home next Friday to continue district play against Millard South.
Despite the loss to North, Tomlin said the Islanders showed some positive signs against the state's top team.
"I felt like our kids fought the whole way," Tomlin said. "I felt like we responded when we were down and continued to battle. I think we can take a lot of this one—a lot of lessons that we can get better from."