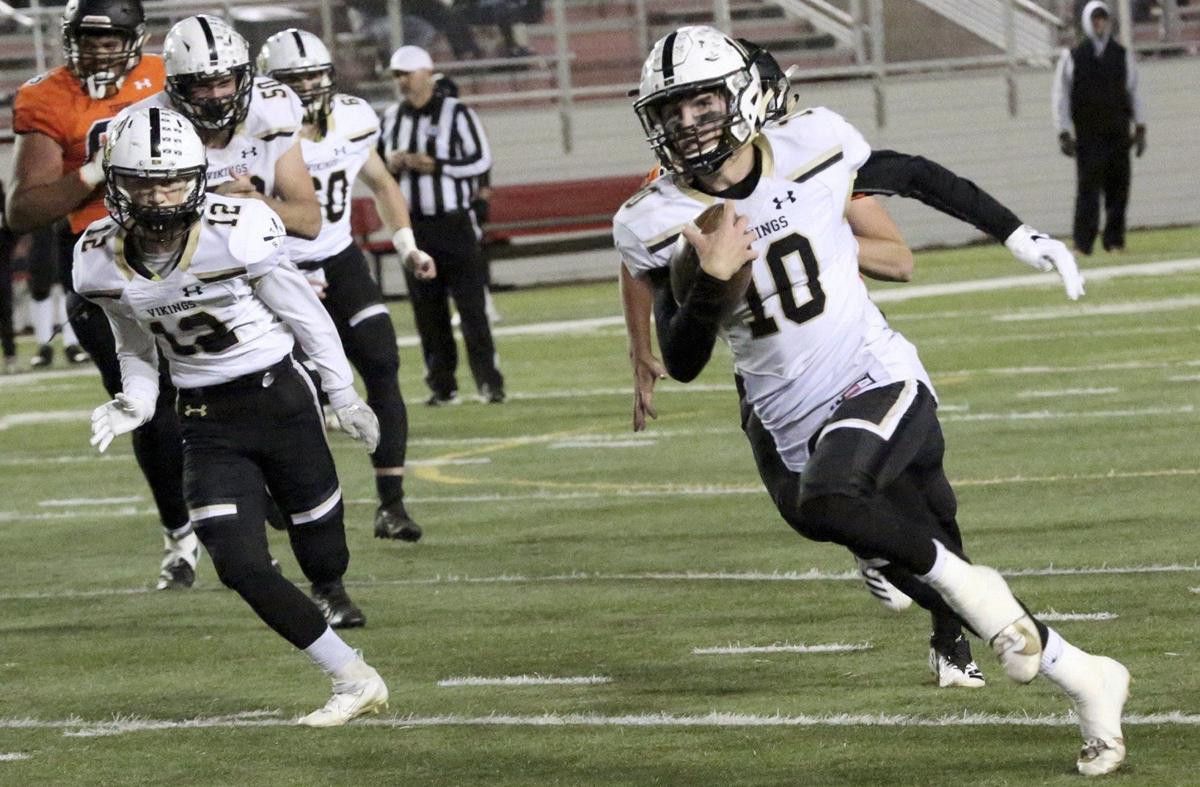 Before turning his attention to baseball, Rans Sanders gets one final week of football.
It was an opportunity the Northwest standout wasn't sure he would get.
But after months of uncertainty due to the coronavirus pandemic, the Shrine Bowl is a go for this Saturday at Nebraska-Kearney's Ron and Carol Cope Stadium at Foster Field starting at 2 p.m.
All players passed protocols and temperature checks on Monday, allowing everyone on the rosters to officially start camp and participate in practices.
Sanders was a selection for the North squad after leading the Vikings into the Class B quarterfinals as a two-way starter as a senior.
But having the opportunity to actually suit up for the Shrine Bowl isn't something Sanders thought would happen.
"It feels weird," the 6-foot, 165-pounder said. "I didn't think this would happen at all. I was talking to my buddy in Iowa, and I don't think their COVID-19 cases were even as bad as ours were, and they had already canceled their game. I didn't think we would have it."
Sanders will be a defensive back — either safety or cornerback — and could see some time at wide receiver.
"I'll try to do my best wherever they put me," Sanders said.
An All-Heartland Super Squad first-team defensive selection, Sanders had 21 solo and 37 assisted tackles last fall to go along with two interceptions.
He was also a dual-threat quarterback, producing a team-high 837 yards rushing with 13 touchdowns to go along with 1,621 yards passing with 13 more TDs.
But Sanders also shines on the baseball diamond as a pitcher and shortstop, and that is the sport he will pursue at Cloud County Community College.
A lost football season as a junior played a part in his decision.
"I missed my junior year when I broke my back," Sanders said. "I fractured my L5 (vertebrae). That changed football in college for me. I was hoping to get some attention, but it's hard to get that back your senior year after missing a season."
Sanders is glad that he does get one more football game.
"It'll feel great to be able to put on the pads again," he said.
Sanders looks forward to playing with and against some of the other standouts from the class of 2020.
"There are players there from a lot of the schools that we played against," Sanders said. "Some of them are on my team, and the guys from the teams that we didn't seem to like this year are on the (South) team. It'll be a weird thing."
What does Sanders hope to accomplish during his final football game?
"I hope I play very well," he said. "I want to do my best, and it'll be nice if we can win."
Be the first to know
Get local news delivered to your inbox!