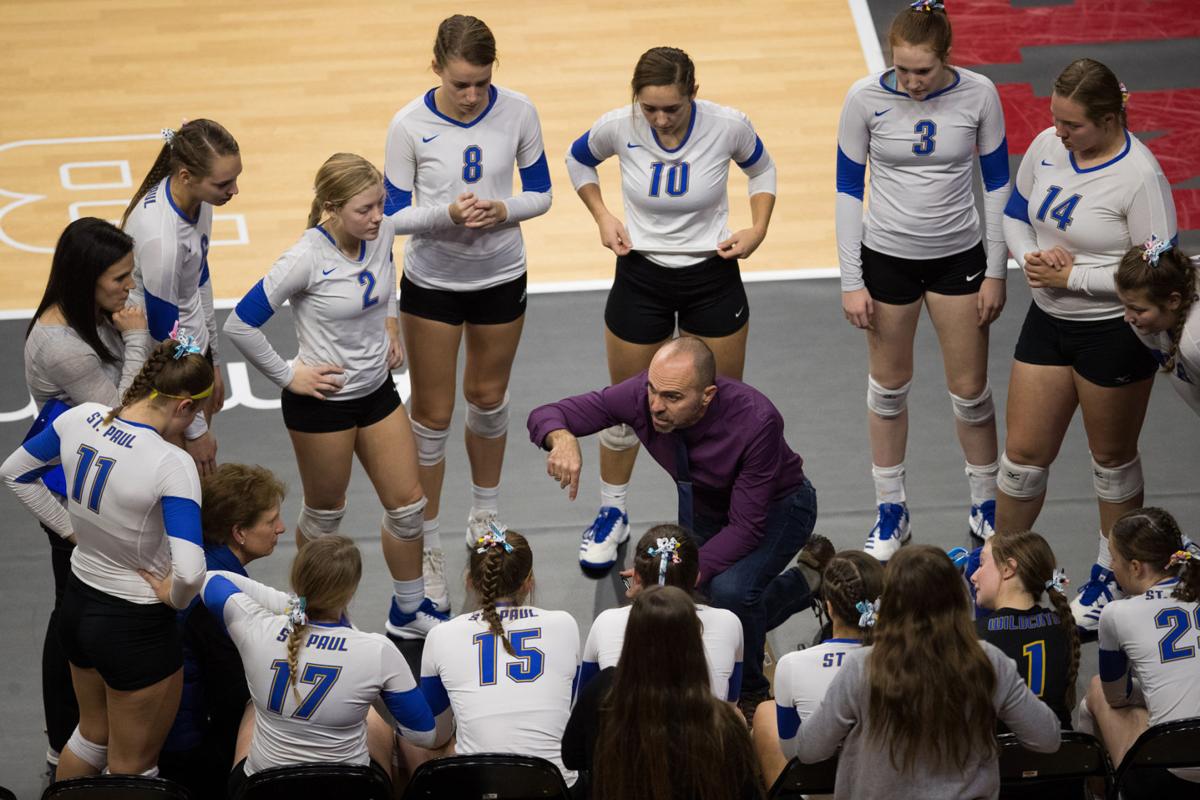 Matt Koehn-Fairbanks has always been a volleyball fan.
He grew up watching his older sister Pam at David City, where his dad, Ted, was the Athletic Director.
He attended St. Paul in high school and he attended many of the Wildcat volleyball matches. He also attended many of the state volleyball tournaments while growing up.
He went on to play college volleyball at Graceland University in Lamoni, Iowa, and played in a lot of national tournaments with the team "Slamwich" which is a Nebraska men's team that has won two national championships.
"(Volleyball) has been in my DNA since I can remember," Koehn said. "I've been pretty much learning the game and playing the game my entire life. I've been a fan of it."
That allowed him to move into the coaching ranks.
After seven years at Elba — where the team qualified for state four times in six years, including one state runner-up finish — Koehn-Fairbanks became the volleyball coach at St. Paul in 2007 and has been there ever since. He took the Wildcats to the state tournament for the first time in school history that year.
This past season, St. Paul advanced to the state championship game for the first time ever, finishing as the Class C-1 state runner-up with a school-record 35 wins with the only loss coming in the final.
For his effort, Koehn-Fairbanks is this year's Independent girls coach of the year.
St. Paul had one of its best seasons ever in 2019. The Wildcats rolled through the competition during the regular season and finished with a 30-0 record. They did that without dropping a set. That continued during the postseason as St. Paul breezed through subdistricts and the district final to advance to the state tournament for the fifth time in school history and earn the No. 1 seed. The Wildcats entered the state tournament with a 79-0 record in sets.
"It almost seemed surreal to think about what the kids did in how many sets in a row that they had won," Koehn-Fairbanks said. "We knew going into the year that we were going to be really good and have all the right pieces to have a good season. But to keep winning set after set after set against some good competition. I can't see that ever being duplicated again."
The Wildcats opened the state tournament with a sweep over Battle Creek.
But Broken Bow got the upper hand on St. Paul in the opening set in the state semifinals, handing the Wildcats its first set loss of the season. However, St. Paul responded by winning the next three sets to advance to the state finals.
Koehn-Fairbanks said after the match that he was proud of the way St. Paul responded after the first set loss.
"It could have gone a bunch of different ways," he said. "For us to come back and play better after the first set, I think that says what we've been about all year."
St. Paul couldn't complete the dream season as it battled with Lincoln Lutheran, but lost in four sets.
"I can't fault my kids. They played so hard. We fought for every point and we never quit," Koehn-Fairbanks said after the match. "We finished with the best record in school history and were in the state championship match. That's a tribute to the 14 kids who (gave) me tremendous effort every day. It was a great year for us and I couldn't be any happier."
Wildcat athletic director Rick Peters, who coached Koehn-Fairbanks in basketball, said he has what it takes to be a head coach.
"As long as I've known Matt, he's has great dedication in all he does. He was one of the more dedicated players that I've coached," he said. "I think he's carried that on as a coach. He scouts teams very well and he conducts his practices very well. And the players enjoy playing for him and they respect him. Those are always key when you are coaching."
St. Paul loses only two seniors from this past season in Brooke Poppert and Makenna Anderson, but returns everyone else for the 2020 season.
Koehn-Fairbanks said next year should be another fun season for the Wildcats.
"I have a great group of kids coming through right now," he said. "We had some very good junior varsity teams that went undefeated the past three years. The expectation of winning has been established and have some talent to work with now.
"The kids have always worked hard and have the work ethic. I know they are going to give everything they have. We hope we get to have that opportunity."
But there's a little unknown of what could happen with COVID-19 taking away all the spring sports and a majority of summer sports as well. Koehn-Fairbanks said whatever happens, he hopes the players enjoy their experience of playing volleyball together.
"It makes you realize it's a blessing to be out there playing," Koehn-Fairbanks said. "I think the kids will really make the most out of every opportunity, whether it's a practice, summer conditioning, or whatever because they know what it's like to have something taken away (spring sports).
"The girls realize they are part of something special. It's not just the games, it's the practices, the bus rides, summer leagues and that's a big part of what their high school experience is all about."
While Koehn-Fairbanks said getting the honor is nice, he feels his assistants, especially longtime assistant coach Nancy Harrington, deserve to be a part of this as well.
"I have great assistants that help me a lot over the years, especially Nancy," Koehn-Fairbanks said. "She's been a big part of St. Paul's success as much as I have."
Be the first to know
Get local news delivered to your inbox!