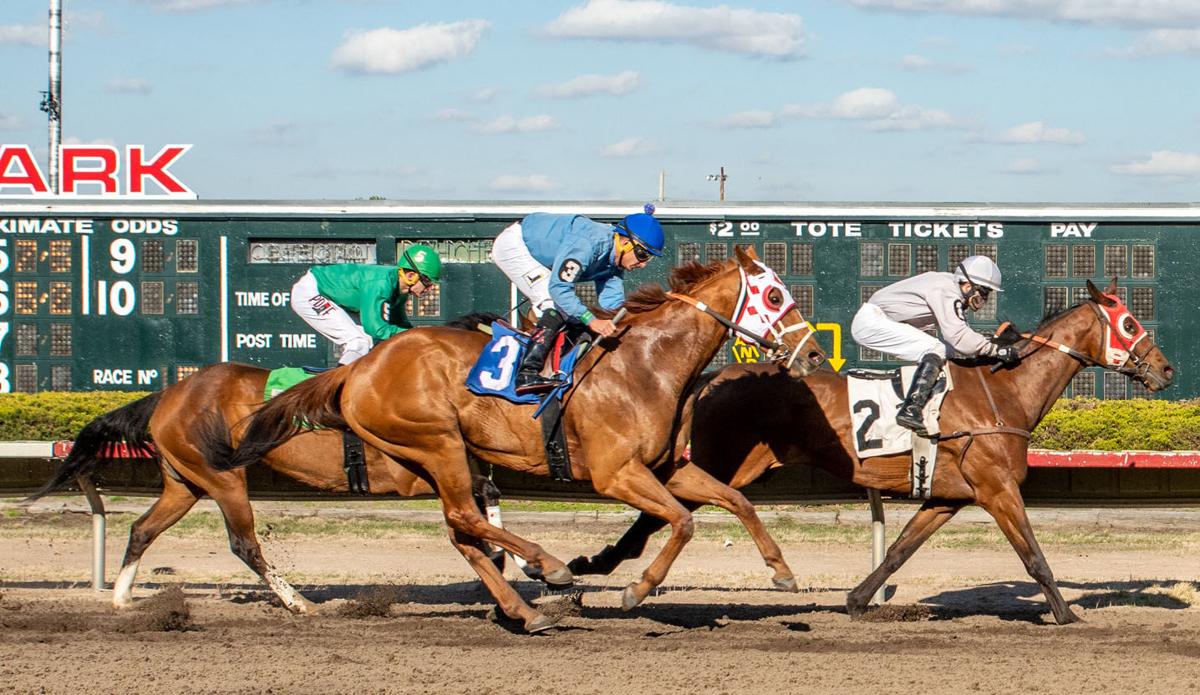 Love At Night and Be My Shadow led the way as the field came down the stretch in the fifth race Wednesday at Fonner Park.
But with Love At Night on the inside and Be My Shadow on the outside, there was just a little hole between the two horses.
That hole was just big enough for Super Charlie to sneak through and get the win in the $10,000 allowance race for Nebraska breds.
"He's a nice horse," jockey Bryan McNeil said. "I had a lot of horse at the top of the stretch and I was just lucky to make it through. Once you point him he just goes."
Super Charlie covered the six furlongs in 1:13.60, ¾ of a length ahead of Be My Shadow who was second, ¾ of a length ahead of Love At NIght in third.
When they crossed the wire the first time, Super Charlie was sitting last in the six-horse field. That was OK with McNeil.
It was a much different race than when McNeil rode him to a win in an allowance/optional claiming race March 30 at Fonner Park.
"The first time I rode him he broke sharply, but there wasn't that much speed," McNeil said. "He just sat on the rail right behind them and I was just waiting for racing room. When it opened, I just swung him out and he took off.
"Today I knew there'd be more speed in the race. He just settled back behind them. When it was time to run, he took the bit and took off."
Love At Night, the top Nebraska-bred mare in the state the past two years, and Phlash Drive, a 4-year-old gelding who won his first four starts at Fonner before finishing seventh in allowance race April 1, provided that early speed.
Nobody else wanted to go with those two speedsters.
"There was more speed in here today, more class horses," McNeil said. "For Nebraska breds, it was probably one of the toughest races here so far. Jumping up from where he won last time, and putting on a performance like that, he's a real nice horse."
The win was worth $6,972 for owner/trainer Dean Bliss. It was the 13th victory in 50 career starts for the 9-year-old son of Shadow Hawk and Burning Memories, bred by Jim Cranwell near St. Paul.
Super Charlie paid $19.00, $6.60 and $2.80. Be My Shadow paid $3.80 and $2.20 for second and Love At Night $2.20 for third.
McNeil said there is a certain way a jockey needs to handle Super Charlie.
"You kind of have to let him settle and do his thing," McNeil said. "If you try to rush him too much early, he might spit the bit on you towards the end."
McNeil, a New York native, came to Fonner for the
first time in the middle of March to join his brother Eric who has been riding here since the beginning of the meet.
"I like it here," Bryan McNeil said. "Some of the trainers here are Hall of Fame trainers. You've got Marvy Johnson, Dave Anderson and everyone else. Good people. The jockey colony, a lot of them this is the first time I've rode with them.
"They're just class act people and fun to be around. I like it a lot."
— Jockey Scott Bethke rode Pierpont to a win in the second. Later Bethke, who rode three winners on Tuesday, later picked up his second win of the day when he rode Dion to a victory in the sixth race for his father, trainer Troy Bethke.
— Armando Martinez leads the jockey standings with 54 wins. Jake Olesiak is second with 47.
— Isai Gonzalez has opened a little lead in the trainers standings with 33 wins. Kelli Martinez is second with 29 and David Anderson has 21.
— Adrial Gonzalez has a comfortable lead in the owner standings with 19 wins. Martinez Racing has 13 while Ramsye Mitchell and Mark Hibdon have 12 each.
— Multiple five-of-five correct tickets in the Dinsdale Pick 5 Jackpot were worth $4,536 each. The carryover into Monday's races will be $159,547. A mandatory payout is scheduled for Wednesday.
— The all-sources handle Wednesday was $3,53,242.
Be the first to know
Get local news delivered to your inbox!