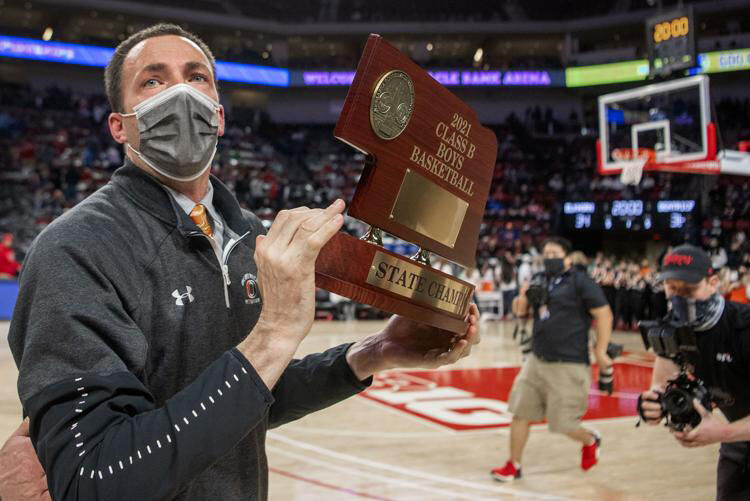 Clark Ribble got quite the greeting wherever he went in Beatrice last week.
"It's been wild," Ribble said. "The whole town has been ecstatic. ...
"I went into Casey's, and the ladies who always greet me there were just pumped. They were so excited, and I see them every morning."
But that will happen when you are the head coach of a boys basketball team that wins a state title, especially in the fashion that the Orangemen did earlier this month.
Beatrice claimed the Class B title as a No. 6 seed that hadn't even won a holiday, conference or subdistrict tournament during the season.
And the Orangemen beat Elkhorn 36-34 in the championship game in overtime only after Kaden Glynn hit a 3-pointer at the buzzer to tie the game in regulation.
The unlikely journey by the team ended with Ribble hanging gold medals around the necks of his players.
But he said that journey wouldn't have been possible without his time growing up 95 miles to the northwest in Grand Island.
Catching the coaching bug
Ribble lived in Kansas City when he was in first through fifth grades but then moved to Grand Island.
He attended West Lawn Elementary for a year before going to Walnut Middle School — which was then seventh through ninth grades — and graduated from Grand Island Senior High in 1997.
It was as an Islander that Ribble decided that coaching was a career he wanted to pursue.
"I had always been around athletics my entire childhood," Ribble said. "I played Little League baseball, basketball, junior high football at Walnut and I ran track at Senior High."
But it was one Islander coach who really led Ribble down the path to becoming a coach himself.
"My junior year, Tim Higgins was the junior varsity coach," Ribble said. "He was a very compassionate man, and you could tell that he cared about every single player. My career would have been a lot different if I hadn't been coached by Tim."
Higgins and Ribble developed a friendship that has lasted decades.
"Tim talked to me before our Wednesday (first-round state tournament) game, and then he was there after our final and we were able to share a minute," Ribble said. "That was special."
Ribble's uncle Larry was also a strong influence. Larry Ribble coached seven boys basketball state champions, two at Pawnee City and five at Millard South, including the undefeated 1989 Class A champions.
"He was able to teach people the right way," Ribble said. "Early on when I began coaching, I knew I wanted to always do that too."
Ribble still talks fondly about his teenage years in Grand Island, even though there were tough times.
He said he went through very difficult circumstances during his junior year, but a long list of people stepped into his life and helped him out.
He said among the numerous families who aided him during trying times, Stan and Sherri Lahm, Darrell and Pam Penas, Bob and Linda Eklund, and Joe and Cindy Wells were some of the most compassionate, caring people that he's encountered during his entire life.
"So many people have helped me when they didn't have to," Ribble said. "Honestly, without them, I wouldn't be the person that I am today.
"Talking with some people, they say things about Grand Island because they only hear things and don't know what it is like. I've lived there. I know from experience the wonderful people who live there who helped me so much."
'Never taken myself to that place'
After graduating from the University of Nebraska-Kearney, Ribble was an assistant coach in California before returning to Nebraska to be the head coach first at Amherst and then at Heartland.
He took over at Beatrice for the 2018-19 season with the Orangemen rebuilding and went 6-14 that first season.
That rebuild hit hyperspeed this year. Not only did Ribble guide Beatrice to its first state tournament berth since 2015, he also led the program to its first state title since 2008 and eighth overall.
But winning a state championship as a coach isn't something Ribble ever thought about.
"I had never taken myself to that place mentally," Ribble said. "As a coach, once a game or practice is over, I'm focusing on what we need to do to improve. I never think about going to the state tournament or winning it.
"When we did win and I got to give my players those gold medals, those were authentic, genuine moments. They hadn't been rehearsed in any way. It was a special, amazing experience."
And one that had been set in motion 25 years ago in Grand Island.