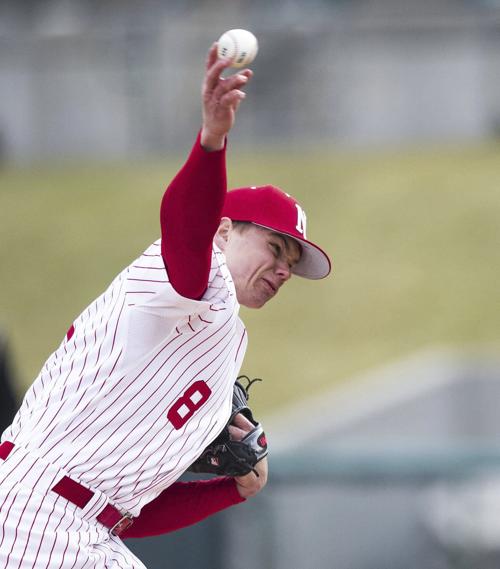 If Shay Schanaman needed to knock off any rust to remember how to be a starting pitcher, it certainly hasn't shown.
After spending his first two seasons at Nebraska coming out of the bullpen, Schanaman returned to a starting role for the Hastings Sodbusters of the Expedition League this summer.
It's the first time Schanaman has started since playing for Grand Island Senior High and Home Federal, and it could very well be a preview of things to come.
"It's different," said Schanaman after going six innings in a 2-0 win over Western Nebraska on Sunday. "This is the most pitches I've thrown in probably three years. This summer is the first games that I've started since high school.
"It's definitely an adjustment, definitely a different aspect of what you do between your outings is huge. I'm learning that and getting into a new routine. It's different, but I'm adjusting well."
Schanaman's first three starts lasted a total of 9 2/3 innings due to the Expedition League's early season pitch count limit. But once that limit was raised to 105 pitches, he really showed his stuff in his first win of the season.
Schanaman struck out 12 Western Nebraska Pioneers while allowing two hits with one walk. His fastball hit the mid 90s on the radar gun, and he leads the league in peak velocity at 96.4 miles per hour.
Schanaman also has a slider that baffles batters, including Western Nebraska's leadoff hitter who struck out looking three consecutive times.
He's focusing on improving all aspects of being a starting pitcher, including adding to his arsenal, during his summer stint with the Sodbusters.
"I want to stay in shape, stay flexible, get the velo (velocity) up," Schanaman said. "That's what I've been working on. I need to develop a changeup because if I want to start next year at Nebraska like I plan to and want to, I need that third pitch, and it's coming along good."
New Hastings Sodbusters head coach JM Kelly was impressed with Schanaman after seeing him for the first time.
"The kid's a stud," said Kelly, who also coaches at Northern Oklahoma College and is an associate scout for the Houston Astros. "I've heard about him since I've been up here how good he is and how hard he throws, but he doesn't just throw hard. He knows how to pitch. And that's what's going to help him be successful later on down the line.
"The kid's got a really special future ahead of him. I'm glad he's here, that's all I'm going to say."
For Schanaman, the stoppage of the college baseball season due to the coronavirus pandemic hit hard.
Entering the season in the closer's role, Schanaman was part of a bullpen that struggled out of the gate. He allowed eight earned runs over 2 2/3 innings in his first three appearances, leaving him with an ERA of 27.00.
But Schanaman turned things around and didn't give up a run over his next three appearances. That included what turned out to be his final appearance of the season, a five inning extended relief outing against Northern Colorado that saw him strike out six, walk none and give up one hit.
"I definitely started out slow and then I had a couple good outings there," Schanaman said. "I felt like I found my groove. That sucked having it end at that point. I just wanted to keep that momentum going into the summer, and I've done it so far."
Schanaman said several factors have led to his success so far with the Sodbusters.
"The velo really helped," he said. "I got a velo bump there, which is good. The first-pitch strike is huge. If I can go up first-pitch strike, I feel like I have my whole arsenal to work with at them. I'm really emphasizing first-pitch strike and staying on top throughout the whole game."
Schanaman has piled up 32 strikeouts over 15.2 innings and has an ERA of 1.72.
While piling up strikeouts isn't necessarily the goal, it is part of an effective strategy.
"As a starter, you don't want to come in and spend four or five pitches striking out every batter," Schanaman said. "But if you can get those 1- or 2-pitch outs between the strikeouts, that's what's huge. It all starts with getting on top. If you get on top, get in a rhythm and throw strikes, you can go deep into the game against anybody and give yourself a chance."
Be the first to know
Get local news delivered to your inbox!