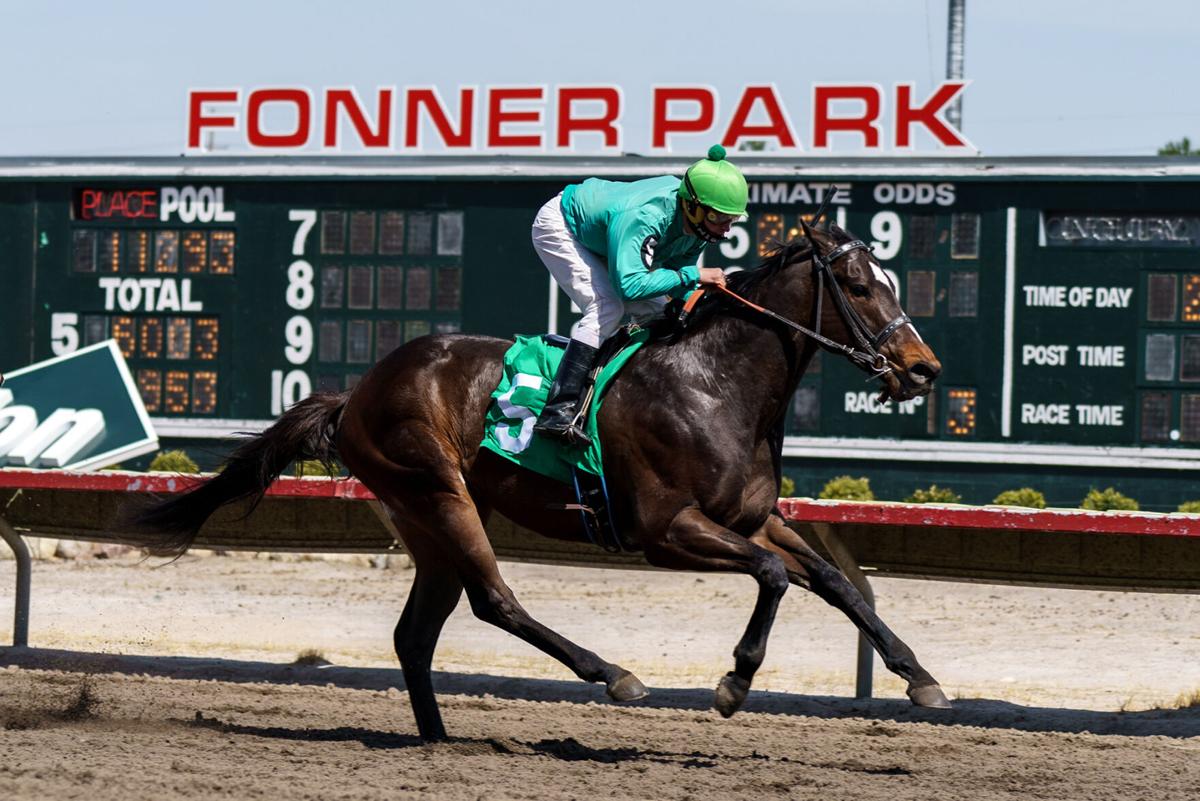 Trainer Ronnie Riggs had his eye on Top Star for quite some time.
But it took a while before owners Bill and Mary West of Omaha decided to sell the young horse..
"Their agent, Benny Glass, once in a while I get a few horses from them," Riggs said. "I kind of wanted to buy the horse earlier from them. When they decided to sell him, he gave me first shot at him."
Riggs didn't want to say what he paid for Top Star, but he sold as a yearling for $359,000. Whatever he paid, he's started collecting on his investment.
Top Star, with jockey Chris Fackler on board, came charging down the stretch to win the 51st running of the $15,000 Baxter Stakes Saturday at Fonner Park.
The Kentucky-bred son of Ghostzapper and Starseeker trailed pace setter Payster, a son of 2014 Kentucky Derby and Preakness winner California Chrome, by three lengths down the backstretch, but took over the lead by half a length heading into the stretch.
Top Star pulled away to win the six-furlong race by 2 1-4 lengths in 1:14.80.
Top Star was a 2-5 favorite going into the race.
"I always get nervous," Riggs said. "I'd rather be picked second or third or fourth. When you're the favorite, the pressure is on."
Top Star handled the pressure just fine, but he faced a challenge from the front-running Payster, trained by Marvin Johnson, who led the race until Top Star was able to reel him in.
"I knew Marvy brought in that horse and it had a lot of speed," Riggs said. "I was worried that he could get away on the front and we might not catch him. Chris put a really good ride on him. He sat in the perfect spot."
It was just the third career race for Top Star, all three at Fonner Park. He finished second by a neck in his first race, then rolled to a 9 3-4 length win in his second.
"He really ran well (in the Baxter)," Riggs said. "The first time, he kind of fell asleep when he ran. The second race he kind of hesitated when he broke and I got a little worried that he was so far behind, but he won easy that day."
His first race was March 13. He came right back to run again on March 21. That's not the way Riggs would prefer to handle a young horse.
"I kind of didn't want to run him right away," Riggs
said. "I ran him once but then I came back and ran him a week later. I usually don't like to do that with a young horse, but to get in this race I thought I might need a little money earned. That's kind of why I ran him two weeks in a row. And it worked out where he could have two weeks off."
Riggs isn't sure when Top Star will run again, but he may try a route race at some point.
"I think he can go farther," Riggs said. "I don't think six furlongs is it. Just wait until we stretch him out down the road."
Top Star paid $2.90, $2.10. Payster paid $2.20 to place. There was no show wagering because Good Boy Roy scrateched over night reducing the field to just five.
The win was worth $9,180 and brought Top Star's career winnings to $14,940.
Martinez wins 2,000th race
Jockey Armando Martinez got a cake from Fonner Park and two pies in his face from his fellow jockeys after the fifth race Saturday.
That's because the veteran jockey rode Upperclasseman to a win for his 2,000th career victory.
Martinez said he was glad to get his 2,000th win out of the way.
"You could feel it," Martinez said. "Everybody is watching you. My parents in Mexico were watching me. My sister told my family, and my friends and then the other riders."
Martinez said he got a little advice from fellow jockey Jake Olesiak before the race.
"I liked the horse," he said. "I never rode this horse before, so I talked to Jake. He told me if be breaks well , he'd be tough. I was hoping to break good. When he broke that good, I was hoping to make a run and he just took me there."
Much more on Martinez's career milestone coming in the near future.
Runza, Dowd Mile next weekend
Two stake races are on tap for Saturday at Fonner Park.
The 46th running of the $15,000 Runza Stakes, a race for fillies and mares, has attracted 26 nominees. That list includes Judge On The Run, winner of the Orphan Kist earlier this year, and Love At Night who has won multiple stake races at Fonner Park over her career.
The 64th running of the $20,000 Dowd Mile will also take place on Saturday. The race attracted 20 nominees. That list includes trainer Marissa Black's Blue Harbor and Mr. Tickle, who finished 1-2, respectively, in the Budweiser-Tondi Stakes earlier this year and were second and third in the Bosselman in 2020.
— Jockey Adrian Ramos and trainer David C. Anderson teamed up to win both the eighth and ninth races.
— Anderson also won the seventh with Jake Olesiak aboard. It was the second win of the day for Olesiak.
— Fonner Park is closed for Easter on Sunday. Racing will resume on Friday with first-race post time at 3 p.m.