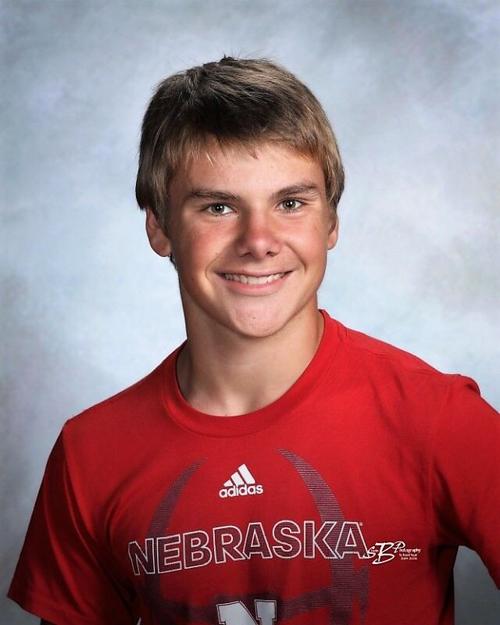 *Trevor Thomson-Summerland - The 5-9, 175 pound sophomore running back saved his best game for the final outing of the 2020 season. In Summerland's 62-28 victory over Ainsworth, Thomson set a Single Game Rushing Record for the new school, which is a co-op between three legendary football powers from the past, Clearwater, Orchard and Ewing.
Trevor rushed 36 times for 320 yards with touchdown runs of 67, 13, 35 and 50 yards. The talented sophomore also made six tackles on defense (3 solo stops) in the season closing triumph. Summerland completed the season with a 2-6 record, missing the playoffs.
Despite not qualifying for the post-season, Trevor Thomson still managed to rush for 1,226 yards on 199 carries with 11 touchdowns. Trevor also accumulated 1,659 All-Purpose yards (207.4/game), led the team in tackles with 61 (38 solos), intercepted a pass and recovered a pair of fumbles along the way.
Now, the 320 yards rushing in a single game is not only a Summerland record, but also surpasses the single game rushing records at Clearwater, Orchard and Ewing.
Think about that. Trevor Thomson is rubbing elbows with some pretty elite talent here. We're speaking of guys like NEMFCA Hall-of Famer Billy Legate from Clearwater (1,807 yards/1992, 1,693 in '1991), Tyler Kester (1,510 and 1,479 in 2001, 2002 respectively), and other Clearwater backs like Kelly Prater (1,473/'86) and Skyler Strope (1,469/2008).
You also cannot forget the Orchard great like Matt Ickes (1,800/1995, 1,370/1996), Shannon Heiss (1,266/1990) along with the other Ickes boys (Lee Ickes in 1978, Adam Ickes in 2000.
And then there's those Ewing Tigers studs: Gregg Jorgenson (1,662/1997), the great Brett Kaczor (1,062/2007 and 1,209/2008), Kaczor's 2008 backfield buddy, Beau Fry (1,161 yards), Jeff Peed (1,151/1992), Jerry Vandersnick (1,064/1975) and the one and only Jeff Tomjack (1,058/1980).
Yes, Trevor, that school record places you alongside of some greats alright.
*Cayden Cunningham, Jackson Clausen-Norfolk Catholic - Jackson Clausen exploded for 192 yards on just 14 carries and took off for a pair of long distances touchdown runs measuring 70 and 72 yards in the Knights 35-14 win over short-handed Crofton. Quarterback Cayden Cunningham was just as efficient through the air, completing 8 of 11 passes for 110 yards. Cunningham also scored on a 7 yard run in Catholic's big win. Brennen Kelly was Cayden's favorite target of the night, catching four aerials for 74 yards. Karter Kerkman added 31 receiving yards on three grabs. Alex Prim also got into the scoring act, pirating a Crofton pass and taking it back 40 yards for the Pick 6.
This sets up a District championship game with Hartington Cedar Catholic next Friday with the winner punching a ticket to the postseason. As earlier stated, I think the loser of this game will also make it to the C-2 playoffs, which begin on Friday, October 30th
*Cole Murray, Zane Schawang-Waverly - Murray was a perfect 6 of 6 passing for 141 yards, while Schawang, the speedy senior, ran for 117 yards on 14 tries in the Vikings 35-0 whitewashing of Crete.
Murray hooked up with Tyztin Hoos for a flashy 71 yard touchdown play and flashed some speed of his own on a 31 yard touchdown run. Schawang's 14 carries included a pair of scoring dashes covering 30 and 18 yards and increased his season rushing total to 950 yards after 8 games.
The 6-2, 4th rated Vikings will close out the regular season Friday hosting Class B #1 Norris. Games do not getmuch bigger than that baby.
Cale Conrad, Heinrich Haarberg-Kearney Catholic - The Stars are heating up and Cale Conrad is one of the reasons why. In the Stars 49-7 win over Holdrege, the 6-1, 190 senior took off for 229 yards on only 11 carries (yes, that's 20 yards a pop) and hit paydirt from 42, 2, 11 and 4 yards out. Conrad has now rushed for 487 yards and six touchdowns the past three games (all wins) for Kearney Catholic.
Nebraska pledge Heinrich Haarberg also enjoyed a great night, completing 14 of 22 passes for 176 yards and TD strikes to Brett Mahony (10 yards) and Austin Christner (74 yards). Haarberg also rushed 3 times for 86 big ones, which included a sparkling 67 yard touchdown run.
Cale Conrad, who ran for 670 yards and 6 TDs a year ago, already is at 700 yards rushing with 9 TDs in 8 games this season.
***1000 Yard Rusher Alert***-Third Time Around
*Serbando Diaz-Dundy County/Stratton - The incredible Tiger all-around player zipped for 143 yards on just 15 carries and touchdown sprints of 45, 32 and 7 yards in Dundy's 54-8 beating of Cambridge last Thursday. That elevates Serby's 2020 rushing total to 1,037 yards with 21 touchdowns and keeps the Tigers unbeaten and ranked number One heading into the Class D-1 playoffs this week. Serby also recorded 12 tackles on defense, which included 6 solo stops and a sack
Diaz also edged closer to that 5,000 yard career rushing mark in that Cambridge win. In 32 career starts, Serbando Diaz has rushed for 4,599 yards with 79 touchdowns. The All-State runner needs just 401 yards to reach that coveted 5000 yard mark. Serby has also amassed 5,817 All-Purpose yards in his 32 game career.
QB Quade Myers completed 6 of 15 passes in that Cambridge win, good for 94 yards and three touchdown tosses to Corbin Horner (11, 23,11 yards). He also rushed for 63 yards on 14 totes with a 3 yard scoring run. Corbin Horner also got into the touchdown passing stat line, completing a 15 yard scoring strike to speedy Lincoln Waters.
On defense, Delton Haines (6-0, 240 pounds) had 10 tackles (4 solos, 2 TFL). Big, 6-4, 260 pound Keegan Krutsinger also had 10 tackles with 5 solos and 2 tackles for loss. Corbin Horner added 9 stops, Quade Myers had 8 and swifty Bobby Schneider picked off a Trojan pass.
*Jacob Diessner-Spalding Academy - Six-Man quarterback Jacob Diessner, who leads the entire nation Total Yards (2,648), made it look easy in the Shamrocks 82-16 victory over Elba. The shifty QB lit up the scoreboard with his 310 yards rushing on only 13 carries and 8 touchdowns. That's averaging a cool 23 yards a pop if you're keeping track. Diessner also recorded 9 tackles in the blowout win.
Jacob has now rushed for 1,609 yards with 34 touchdowns and completed 42 of 81 passes for 1,017 yards and 18 additional TDs. On defense, Diessner has 74 tackles, with 51 of those being solo stops. He's also intercepted three passes.
Spalding Academy (6-1) will close out it's regular season on the road Thursday against #3 rated Stuart (5-0). The Shamrocks have faced only one team all season that sports a winning record, and that was 4-1 SEM, who handed them their only loss of the 2020. The combined record of Spalding Academy's remaining six opponents is currently 7-27, so a win over Staurt would definitely make a statement for the Shamrocks.
*Abram Scholting, Dalton Delka, Logan Moeller-Pierce - Don't be shocked. Sophomore quarterback Abram Scholting completed 7 of 11 passes for 228 yards and three touchdowns in the Bluejays 70-12 romp over a fine Battle Creek team. Pierce, who threw only 100 times for 683 yards and 10 touchdowns in 13 games a year ago, has already completed 49 passes for 1,092 this season over 8 games.
Back to the Battle Creek victory, Scholting hit Logan Moeller for a pair of TD passes covering 28 and 43 yards and also connected with Dalton Delka for a 60 yard touchdown to open the game's scoring.
Oh yeah, the Bluejays DID run the football against the Braves, like 329 yards worth. Tyler Race led all ball carriers with 132 yard on just 7 touches. Race broke free for TD runs of 67 and 26 yards. The Pierce defense was especially stingy against the run, holding Battle Creek's 1,200 yard back Reece Bode to just TWO yards on 8 carries.
**1000 Yard Receiver Alert**-Second Time Around
*Julien Hearn - Neligh-Oakdale - It's just plain and simple, you just do not see two time 1000 yard receivers in Nebraska high school football very often. Julien Hearn is the exception to the rule, as the Neligh-Oakdale renaissance man went over the 1000 yard receiving mark again in 2020 in the Warriors 52-18 victory over Nebraska Christian last Friday afternoon.
Hearn grabbed 5 receptions from sensational sophomore quarterback Aiden Kuester (pronounced KOOSTER) for 129 yards and a pair of touchdowns. The 5-9, 160 pound do-it-all Hearn also rushed for 59 yards on 9 carries and scores two more times via the ground route.
For the year, Julien Hearn has 46 receptions for 1,108 yards and 13 touchdowns. The splendid senior has also rushed 47 times for 413 yards and an additional 8 scores. During his illustrious career, Julin Hearn has accumulated 2,395 receiving yards with 35 touchdowns for Neligh-Oakdale.
The Warriors open Class D-2 post-season play Thursday when they host 5-3 Elkhorn Valley, a team that boasts their own lethal Quarterback/Receiver combination in Braedyn Ollendick (1,435 passing/20 TDs) and WR Adam Miller (809 receiving/12 TDs).
**1000 Yard Rusher Alert**-Second Time Around
*Tommy Stevens-Ord - The man who can lift small automobiles and run down gazelles, rambled for 162 yards on 13 carries and 4 touchdowns in the Chanticleers 62-0 win over Centura. That pushes Tommy Stevens over the 1000 yard mark again this fall (1,084 yards), his second consecutive season surpassing that sought after rushing mark.
Quarterback Zach Smith went 5 of 6 passing with a touchdown and added 51 rushing yards on 9 touches with two more TDs in the rout. Nebraska Walk-On Kelen Meyer and Garret Kluthe both intercepted passes and recovered fumbles in the romp.
*Dane Pokorny-Sandhills-Thedford - -6-3, 200 pound junior battering ram bolted for 150 yards on 16 totes and three touchdowns in Sandhills-Thedford's big 77-24 victory over defending Class D-2 runnerup Pleasanton. Pokorny hit the endzone on runs of 1, 2 and 35 yards, increasing his season rushing total to 1,121 yards (22 TDs).
Pokorny's junior classmate Seth Scranton added 88 yards on 13 carries with scoring runs of 9 and 41 yards, while another junior classmate, Fullback Reece Zutvern (5-10, 190) did it the efficient way, rushing 9 times for 28 yards and THREE short scoring blasts of 1, 5 and 5 yards.
The Eight-Man 2 playoff field is already taking notice of this Sandhills-Thedford bunch, known for it's traditional Cowboy toughness. The green, black and white clad Knights will host 3-5 Axtell Thursday in the opening round of the Class D-2 playoffs. Kickoff is slated for 5:00 CDT at Dunning.
*Jack Wemhoff-Elgin Public/Pope John - 158 yards on 34 carries and TD runs of 1, 5 and 62 yards in the Eagles 26-20 loss to a fine Osmond team. Wemhoff, just a sophomore, has 969 yards/13 TDs going into the Eagles opening round D-2 playoff game Thursday at 7-0 BDS. Game is in Bruning. Kickoff is slated for 5:00 sharp.
*Cooper Gierhan-Centennial - Bronco senior QB scored every single point in Centennial's 21-17 loss to Lincoln Lutheran. Gierhan hit 16 of his 30 passes for 182 yards, rushed 10 times for 101 yards and a pair of touchdowns, kicked both PATs and booted a 26 yard field goal, accounting for all 17 points. That certainly qualifies for the "You Da Man" Award does it not?
*Brian Turek-Hemingford - Rushed for 175 yards on 11 carries and 3 touchdown runs covering 2, 52 and 13 yards, in the Spud Pickers, I mean Bobcats (look it up!) 60-26 route of Kimball. In his career, Turek has run for 3,240 yards and 44 touchdowns and amassed 4,154 Total Yards and 52 TDs for the Hemingford's proud football program.
I will get a closeup look at Brian in their playoff matchup with Nebraska Christian Thursday in Central City. Gametime is 1:30. Thank you Nebraska Christian for this double-header opportunity!
*Gavin Sheen-Wilcox-Hildreth - Quarterback completed 19 of 30 passes for 204 yards and 3 TDs in Will-Hills 83-51 loss to Harvard in Six-Man football action last week. Tristan Nicks also completed 7 of 8 aerials for 71 yards with a pair of scores in the loss. Nicks was a factor in the ground attack for Wilcox-Hildreth, gaining 82 yards on 17 carries with a touchdown.
*Owen Sudbeck, Anthony Haberman-Wynot - 5-7, 150 senior Owen Sudbeck rushed for 186 yards on 18 touches and scored TDs on runs of 15, 1, 61 and 3 yards in Wynot's 46-20 win over Winside. QB and leading rusher, Anthony Haberman added 138 yards on 18 carries with 3 more touchdowns in the Blue Devils win.
Heberman leads Wynot with 939 yards and 11 TDs through six games while Sudbeck is at 529 yards with 8 touchdowns through 6.
Wynot opens the post season with a home date Thursday against……..you knew it had to be………. 5-3 Winside of course. Kickoff is set for 6:00 PM.
Be the first to know
Get local news delivered to your inbox!