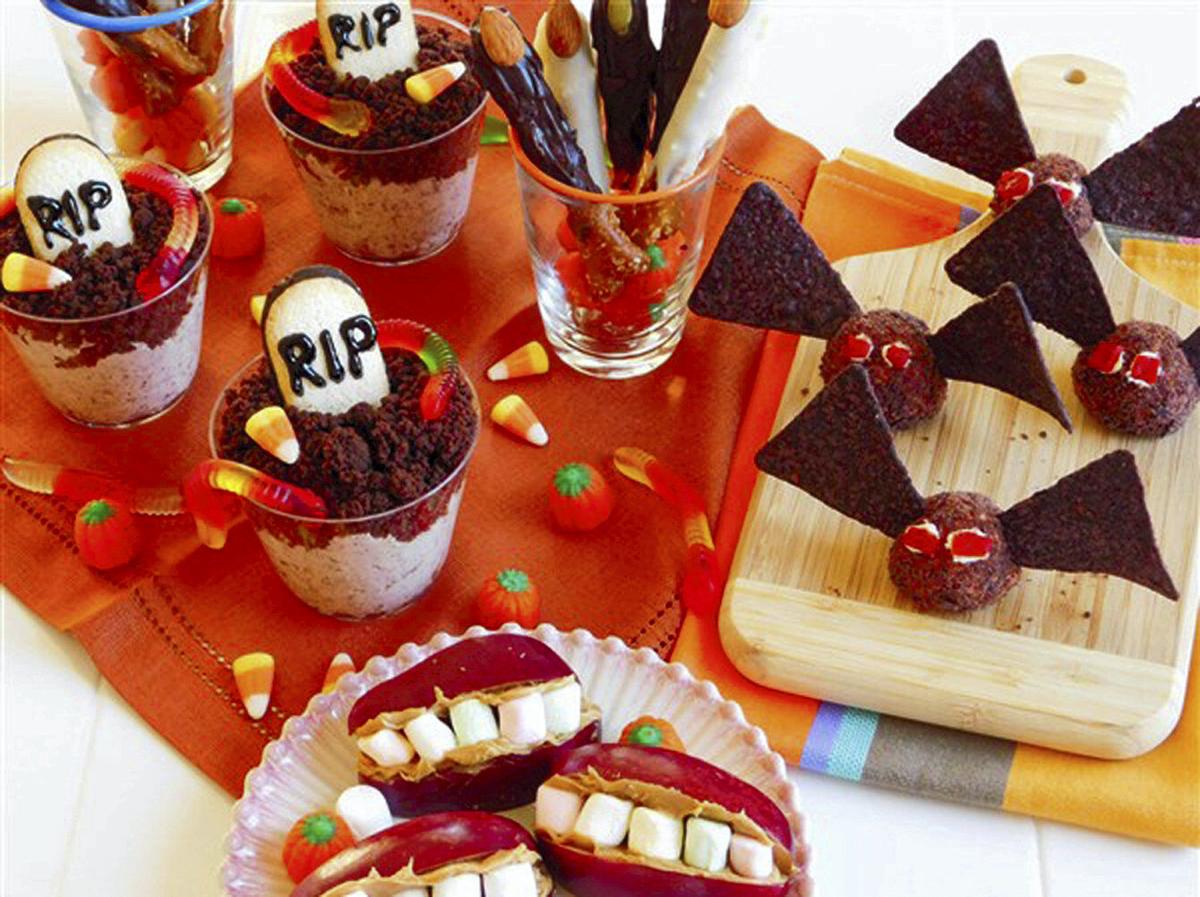 Who knew that Halloween food could not only be scary but also fun and hauntingly flavorful?
Ranging from salty to sweet and healthy, and from appetizers to snacks and desserts, it is frighteningly easy to whip up. Like the Halloween costumes every year, the food can be just as varied and is meant to leave a lasting impression. So don't be afraid to experiment and treat your guests to a memorable time!
Delve into the salty department and prepare a creepy savory appetizer. Opt for a cheese dip starter such as the Bat Wings Cheese Balls. A delicious blend of cheeses and chunky salsa, rounded into balls, dusted with crushed blue-corn chips and adorned with extra chips making this the perfect finger food with which to greet your guests. Not to mention that you don't have to dig into the bowl all the time; just grab a bat off the tray.
The Pretzel Spooky Fingers snacks emphasize the playfulness between salty and sweet with a pleasant side of crunch. Salty pretzels are dressed up in luscious white or dark chocolate and decorated with pepitas or almonds to complete the finger concoctions. Warning: they can become addictive.
Bizarre creations also can be healthy. The Apple Teeth Snacks are made with crisp, tart apples smeared with creamy peanut butter and finished with soft marshmallows. They look just like regular lips and teeth, are crunchy and sweet and kids (and adults) will love them. No cooking is involved and these edible mouths come together in no time.
And, of course, we can't escape desserts. The RIP Dirt Cups are horrifyingly cute. The mousse is smooth and nicely sweet, topped with a delightful chocolate crunch. And the sandwich cookie acts as tombstone adding an extra crunch, while the gummy worms bring a new level of texture and color to this ghostly dessert.
In my quest for the scariest, yet tastiest Halloween recipes, I also found a couple of snacks that will make you look twice before reaching for a bite. For Antipasto Eyeballs, just cut small holes in mozzarella balls and insert pimiento-stuffed olives. Wrap them in prosciutto and serve on crackers or crostini. (From Food Network Magazine, October 2016.)
Bacon-Wrapped Date Bugs look like nasty insects. Simply cut bacon slices into 4 pieces. Wrap each piece around a pitted date and secure with a toothpick. Bake at 400 degrees, turning once, until crisp, about 8 minutes. Cool slightly and then remove the toothpicks. Tuck thinly sliced dates under the bacon for antennae. (From Food Network Magazine, October 2016.)
And Monster Avocado Toasts scream healthy. Mash 1 avocado with lemon juice and salt. Spread on toasted rye cocktail bread. Decorate each with sprouts for hair, radish slices and black olives for eyes, a caper for a nose, a cucumber slice for a mouth and jarred roasted red pepper for a tongue. (From Food Network Magazine, October 2016.)
This is how a cheese dip should be enjoyed — in bat-form. These cheese balls are a cinch to make, spooky and cheesy with a slightly crunchy exterior. Use a spicy salsa for a pleasant bite.
4 generous handfuls of black-bean or blue-corn chips, crushed, plus whole ones for the wings
8 ounces softened cream cheese
1 cup shredded cheddar
1/4 cup chunky salsa
1/4 teaspoon chili powder
Salt
Freshly ground black pepper
Sour cream
1 pimiento pepper, diced
Add handfuls of chips to a blender or food processor and pulse until powdered. Transfer to a shallow bowl and set aside.
In a medium bowl, mix together cream cheese, cheddar, salsa and chili powder. Season with salt and pepper. Chill until firm, about 1 hour. Roll into 1-inch balls, then roll in the crushed chips. Insert whole chips for wings. Decorate with sour cream and pepper for eyes.
Makes about 18 cheese balls.
Recipe adapted from: Food Network Magazine (October 2016)
The chocolaty crumbles on top add a lovely texture and contrast to the creamy chocolate mousse. Dressed up with cookie tombstones and gummy worms, this dessert is scary yet easy to throw together.
1 cup (6 ounces) semisweet chocolate chips
2 cups Brownie Brittle (2 5-ounce bags) or chocolate wafers, crushed
8 tablespoons butter, melted
1-1/2 cups heavy cream
Black decorating icing
Sandwich cookies, such as Pepperidge Farm Milano Cookies
Gummi worms, candy corn and pumpkins for garnish
Melt chocolate chips in microwave-safe bowl on high for 30 seconds; remove and stir. Return to microwave and heat in 15-second intervals until smooth. Set aside to cool.
Mix crushed Brownie Brittle with the melted butter and set aside.
Use an electric mixer on high speed to beat cream until soft peaks form. Add a small amount of cooled melted chocolate to whipped cream and, using a spatula, gently fold it in. Fold in rest of the melted chocolate gradually.
Using decorating icing, write RIP on 4 cookies. Set aside.
Place a large scoop of chocolate-whipped cream mixture into the bottom of 4 (6-ounce) glasses and cover with a layer of Brownie Brittle crumbles, dividing them evenly. Garnish with RIP cookies to look like a tombstone, Gummi worms, candy corns and pumpkins.
Recipe adapted from: "Sheila G's Butter & Chocolate: 101 Creative Sweets and Treats Using Brownie Batter" by Sheila G. Mains, (Kyle Books; October, 2016; $19.95)
These spooky fingers truly showcase the wonderful balance between sweet, salty and crunchy, making them a delightful snack.
6 ounces white chocolate
6 ounces dark chocolate
20 pretzel rods
10 pumpkin seeds
10 almonds
Line a sheet pan with parchment paper.
Melt white chocolate in microwave-safe bowl on high for 30 seconds; remove and stir. Return to microwave and heat in 15-second intervals until smooth. Repeat process with the dark chocolate.
Holding it over melted chocolate, coat 1 pretzel at a time with chocolate (10 pretzels with white and 10 pretzels with dark chocolate), leaving about 1 or 2 inches uncoated at one end.
Place pretzel on sheet pan and immediately press 1 pumpkin seed or almond onto coated tip to resemble a fingernail. Repeat with remaining pretzels.
Refrigerate for about 15 minutes to set chocolate.
These teeth snacks are slathered with smooth peanut butter, adorned with sugary and soft marshmallows and served with a slice of tart, crisp apple.
2 red delicious apples
Peanut butter
Mini white and colored marshmallows
Take 1 slice and spread about 2 teaspoons of peanut butter on one side.
Arrange marshmallows in a row across the apple slice to resemble teeth.
Take another slice of apple, spread it with 2 teaspoons of peanut butter on only one side and press it firmly over the marshmallows.
Repeat with the remaining ingredients.
Be the first to know
Get local news delivered to your inbox!