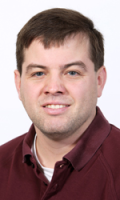 Marc Zavala
Bio

Sports writer, mostly in volleyball, cross country, wrestling and track and field, for the Grand Island Independent for seven years.
Novinski looking to win fourth 500 freestyle title 
St. Paul outside hitter Josie Jakubowski was named captain of the 2020 All-Heartland Super Squad. 
There were a few changes made to the state volleyball tournament.
It took a superstar performance from Mya Larson for Wahoo to claim a state championship Saturday at Pinnacle Bank Arena by edging St. Paul in five sets in a battle of undefeateds.
Despite falling behind 2-0 to defending state champion Lincoln Lutheran, St. Paul refused to see its season end at the hands of the Warriors for a third consecutive season.
LINCOLN – Nebraska Christian did contain Diller-Odell and Karli Heidemann for some parts of their Class D-2 quarterfinal match Thursday.
A quick start ignited a sweep by Class C-1 No. 2-rated St. Paul against No. 4 Broken Bow in the first round of the state tournament.
Skutt sweeps Northwest in opening round
Eagles make third state tournament trip in four years
St. Paul takes a 32-0 record entering the state tournament
View all