Hy-Vee | Grocery Store | Grand Island, NE
Where there's a helpful smile in every aisle!
| | |
| --- | --- |
| Sunday | Open 24 Hours |
| Monday | Open 24 Hours |
| Tuesday | Open 24 Hours |
| Wednesday | Open 24 Hours |
| Thursday | Open 24 Hours |
| Friday | Open 24 Hours |
| Saturday | Open 24 Hours |
Holiday hours: Thanksgiving : Open 24 hours. Fresh departments closing at 2 p.m. Christmas: Closing Dec. 24 at 6 p.m. Closed Dec. 25. Reopening Dec. 26 at 6 a.m. New Year's Day: Open 24 hours
Special hours: Bakery: 6 a.m. to 8 p.m.
Caribou Coffee: 6 a.m. to 8 p.m.
Chinese Express: 11 a.m. to 8 p.m.
Floral: 7 a.m. to 8 p.m. Mon-Sat; Sundays 9 a.m. to 6 p.m.
Hy-Vee Gas: 5 a.m. to 11 p.m.
Italian Express: 11 a.m. to 8 p.m.
Kitchen: 6 a.m. to 8 p.m.
Money Services: 8 a.m. to 8 p.m.
Pharmacy: 9 a.m. to 9 p.m. Monday-Friday; 9 a.m. to 6 p.m. Saturday; 10 a.m. to 6 p.m. Sunday
Wine & Spirits: 8 a.m. - 10 p.m. Monday - Thursday; 8 a.m. - 11 p.m. Friday & Saturday; Noon - 9 p.m. Sunday

Store is located just east of the intersection of Highway 281 & Old Potash Highway - next to Kohl's.
About Hy-Vee | Grocery Store | Grand Island, NE
Hy-Vee of Grand Island takes pride in giving the local residents the highest quality groceries at the lowest possible prices!
We are committed to personalized service and quality food distribution. It is our mission to provide the highest quality, freshest product available, while treating our customers like family and valuing our dedicated employees beyond measure. We are dedicated to helping people across the country live better lives by making a meaningful difference, neighborhood by neighborhood. Whether you are looking for natural products, everyday pantry staples or exciting one-of-a-kind foods, you'll find savings and quality with us! You're part of the family, whether online or in person, we are your neighborhood grocer. We strive to meet or exceed customers' expectations on every shopping experience. We deliver outstanding customer service through our knowledge, skill, enthusiasm and operational excellence. Stop in today to see what we can do for you!
Hy-Vee has great selection, great savings and a commitment to making grocery shopping more convenient in Grand Island.
We are synonymous with quality, variety, convenience, healthy lifestyles, culinary expertise and superior customer service. We're on a mission to improve the way our communities eat by offering fresh and healthy food at amazing values! All in a vibrant and fun shopping environment, where smiling, friendly faces there to help with all your needs. We believe shopping should be easy and enjoyable. We are community minded, where residents and guests always come first and value and convenience are never compromised. We offer a full selection of affordably-priced groceries. From our excellent meat cutters to our personable cashiers, you can count on unmatched, five-star service. Quality and variety also come standard. Come in today to plan your next meal!
Is this your business?
Promote your business through our innovative Marketplace system! It's free to sign up!
Tara Neighbors, RD, LMNT, graduated in 2012 from the University of Nebraska-Lincoln with a Bachelor of Science degree in education and human sciences. Tara finished her dietetic internship from Iowa State University as a distance program in 2013. She gained experience in clinical nutrition from Saint Francis Medical Center; community nutrition from Hy-Vee and Lincoln/Lancaster Health Department; and food service from Grand Island Public Schools and Saint Francis Medical Center. She is currently working on her master's in nutritional science at the University of Nebraska-Lincoln. She is an active member of the Central Nebraska Dietetics Association. She enjoys teaching others about nutrition and the tools they need to be successful.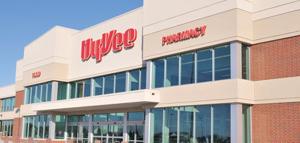 We believe the best smile is yours
Cakes for all occasions! Specialty breads & pastries.
Find your favorite Caribou beverage at the store.
We specialize in authentic Chinese cuisine. Entrees are ready-to-go or made-to-order.
Fresh selection of dairy products.
Specialzing in the best DiLusso meats & cheeses. Fresh hot or cold sandwiches daily.
Offering the services of an in-store dietitian.
Staffed with friendly designers to create your floral fantasy for any occasion. FTD & Teleflora services available.
An excellent assortment of frozen products to meet any need.
Year-round seasonal needs, from summer fun to Christmas tinsel. One-stop shopping convenience.
Your center for products to fit your healthy lifestyle. Totally naturally, totally organic. Full line of supplements & vitamins.
Check out aisle 4 - for all your ethnic-specialty items, from authentic Hispanic pastries to pinatas, soft drinks, spices and cookies. We have it all!
Save money on gasoline with any purchase in the store. The discount amount may change daily.
Offering a wide variety of pet food - from refrigerated to organic - plus toys & other pet items.
Pizza, pasta, calzones & more made fresh daily!
We offer homestyle meals prepared fresh daily - dine-in or carry-out. Specializing in custom caterings for weddings, office meetings, graduations, reunions & picnics.
Featuring Amana & Blue Ribbon beef. Our full-service meat counter offers a great variety of specialty meats.
Grand Island Hy-Vee's Money Services department offers a variety of services for individuals who do not currently have a bank and those who do who prefer one-stop shopping. We offer Money Orders, Western Union wire transfers, CoinStar and check cashing, just to name a few. Call or stop in today to see what we can do to make your life easier!
Click on the SHOP header at the top of the page, and then on GROCERY SHOPPING in the drop-down menu, to shop online for groceries at our store.
Convenient drive-up lane. A generous schedule of friendly, knowledgeable pharmacists to assist you.
Offering only the freshest & largest variety of quality produce in the area.
A fresh & healthy solution for lunch & dinner. All-you-can-eat buffet featuring fresh fruits, vegetables & salads.
Catch it fresh at Hy-Vee, where our U.S. Department of Commerce lot-inspected seafood is fresh daily from the coast.
Offering a wide selection of wines from around the world. Step into our walk-in cooler for the coldest beer in town.
Store Director

Brent Grummert

Caribou Coffee Manager

Sasha Willhoft

Manager Perishables

Steve Barry

Chinese Express Manager

Oscar Garcia

Manager Perishables

Jose Moran

Convenience Store Manager

Tyler Hulme

Assistant Manager General Merchandise

Brian Klinginsmith

Dairy Manager

Matt Gardner

Assistant Manager Perishables

Nate McDowell

Delicatessen Manager

Tyler Lynn

Assistant Manager Store Operations

Nick Griffin

Floral Manager

Shannon Ahlman

Accounting Manager

Kali Lenox

Frozen Foods Manager

Ron Samples

Certified Wine Specialist

Jose Moran

General Merchandise Manager

Christin Wodrich

Charcuterie Specialist

Tyler Lynn

Health & Beauty Care Manager

Ashley Swanson

Cheese Specialist

Vicky Kranz

HealthMarket Manager

Glynda Taylor
Chef

Chef Anthony

Italian Express Manager

Austin Dodson

Customer Care Education Manager

Mike Baxa

Kitchen Manager

Adan Betancourt

Customer Service Manager

Dixie Krohn

Assistant Kitchen Manager

Julio Minjarez

Dietitian

Tara Neighbors, RD, LMNT

Meat Market Manager

Doug Noer

Human Resource Manager

Tim Hawley

Night Stock Manager

Brandonn Roberts

Marketing/Events Coordinator

Ken Pedersen

Pharmacy Manager

Bill Hohlen

Online Shopping Manager

Carol Lilly

Produce Manager

Brandi Holloway

Product Manager

Jeff Grell

Salad Bar Manager

Teresa Cruz

Bakery Manager

David Schwendinger

Wine & Spirits Manager

Dan Wicht